Finding dependable transportation is a major challenge for older adults, and a panel of experts gathered recently to discuss how innovations may help address the problem.
The Minneapolis chapter of Aging2.0 – a global network on a mission to accelerate innovation to improve the lives of older adults around the world – hosted a panel Nov. 1, 2017, at the Learning Lab for Eldercare Technologies in Minneapolis.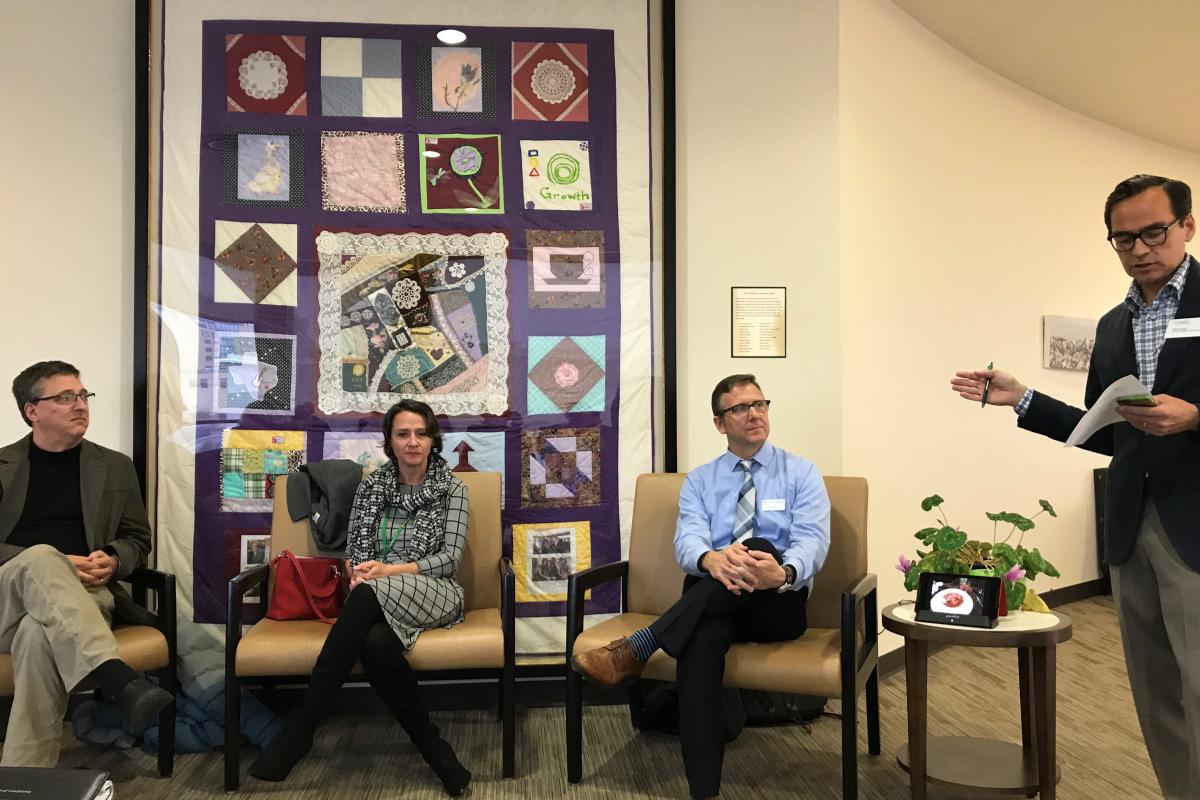 Mark Lucas, Ecumen Director of Development, moderated the wide-ranging discussion on how to make transportation more affordable, accessible and practical for the elderly. He said transportation is expected to change rapidly in coming years and Ecumen and Aging2.0 look forward to promoting the discussion around advancements.
[Pictured, left to right, Eric Schnell, Christine Kuennen, Dave Jaqua, and Mark Lucas]
"I see on-demand and AV [autonomous vehicles] as the future," said panelist Christine Kuennen, a mass transit expert and senior manager at Metro Transit. On-demand includes services like Uber and Lyft. Autonomous vehicles are those without human drivers.
Panelist Eric Schnell agreed, noting that robotic shuttle buses are already operating in rural Japan where there is a large elderly population. "And Disney World has been doing this for years," he said. Schnell is former COO at Aeon, a nonprofit affordable housing provider.
On-demand services like Uber and Lyft currently do not work well for seniors, said panelist Dave Jaqua, vice president of member experience at grandPad, a tablet technology that connects seniors with their family members. One problem is that elderly riders may have difficulty getting in and out of standard passenger cars and drivers are not trained to assist them. Also, these services operate by smartphone apps and less than half of older seniors have smartphones. Additionally, on-demand fleets do not currently have the capacity to serve the growing aging population.
Plus, Kuennen said, "one-off trips are expensive and inefficient," and ride services are causing major congestion in large cities.
The panelist discussed a pilot project in Boston where the city is partnering with Uber and Lyft to serve the disability community. Drivers need to be prescreened to offer this type of service, must have accessible vehicles and must adhere to laws governing quality of care.
Transportation providers for the rapidly growing elderly population will have to be highly flexible, Kuennen said, because services must be mobility providers as well as transportation providers. "One size does not fit all," she said.