Ecumen Lakeview Commons residents gathered November 9 for a Veterans Day service to honor people like 100-year-old Madeline Allen, who sat in the front row. She served in the Army in the South Pacific during World War II, at Gen. Douglas MacArthur's headquarters.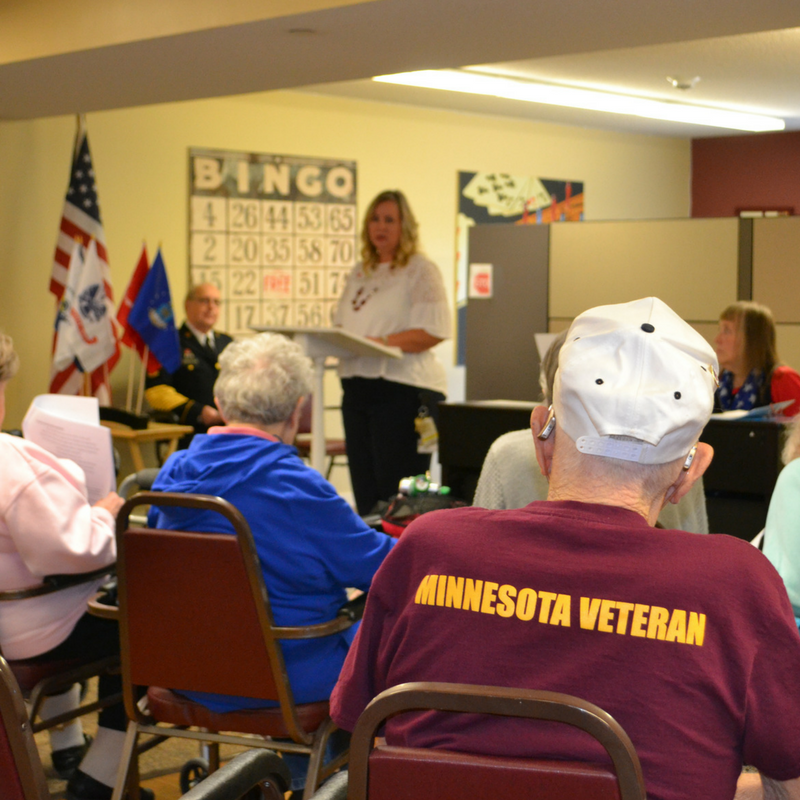 Around the room were veterans, friends and families of veterans and employees who joined in song and prayer to remember and honor all those who have served in the military. Chaplain Jean Anderson, conducted the service and also played the piano, leading the attendees in songs like "The Star Spangled Banner," "Battle Hymn of the Republic," and "God Bless America."
"A veteran," Chaplain Anderson said, "is someone who, at one point in his life, wrote a blank check made payable to the United States of America for an amount of up to, and including, his life. That is Honor. And there are way too many people in this country today who longer understand that fact."
To honor each branch of the service, Chaplain Anderson and her husband Ted, who was in full uniform, led the attendees in the singing of the anthems of each branch as their flags were displayed. Life Enrichment Assistant Wendy Gunard did poetry readings, including a poem entitled "Freedom Isn't Free."
In a prayer, Chaplain Anderson said: "We pray for those who have fought, whose spirits and bodies are scarred by war, whose nights are haunted by memories too painful for the light of day. We pray for those who serve us now, especially for those in harm's way. Shield them from danger and bring them home. Turn the hearts and minds of our leaders and our enemies to the work of justice and a harvest of peace."
Amen.