The Minneapolis/St. Paul Business Journal has announced that Ecumen will receive a "Best Places to Work" award — for the ninth time in the past decade.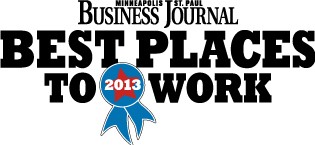 The award is based on the high marks employees gave in an anonymous survey on topics such as work environment, people practices and how things work day-to-day.
In a congratulatory email to Ecumen employees, Robin Dunbar Balck, Ecumen's Senior Vice President for Human Resources and Strategic Alignment, said: "Thank you for all that you do to support our customers and your coworkers. After all, great people make great places to live and work! Only with the hard work and talent of our employees are we able to gain such wonderful recognition."
Ecumen is among 53 companies who will receive the award at an Aug. 14, 2014, reception and be featured in the Aug. 15 Weekly Edition of the Business Journal.
Go here to read the Business Journal's announcement and see a video on the winners.