Gus the Dog Charms Ecumen Lakeview Commons Residents
Gus is in the business of making people happy, and residents of Ecumen Lakeview Commons are his best clients.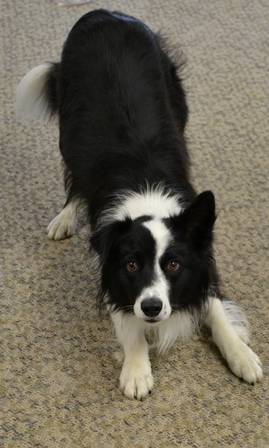 Gus, the year-and-a-half-old Border Collie roams the halls of Lakeview Commons in Maplewood, Minn., and always finds someone to play with. He even knows which rooms he can go to get a treat.
"His main role is to bring cheer," says Lakeview Commons Director of Therapeutic Recreation Jen Rasmussen. "Residents can be having a bad day and in 30 seconds Gus can change their mood."
Jen says that the best moments with Gus and the residents are unstructured. Residents often take Gus for a walk, or play fetch with him outside. Also, structured events with memory care residents have had a great therapeutic impact. Programs give memory care residents the opportunity to play with Gus, brush him and most importantly spark conversation. Many residents begin talking about dogs that they once owned, reminding them of home.
"Lakeview Commons is like one big home, and Gus helps that," says Jen.