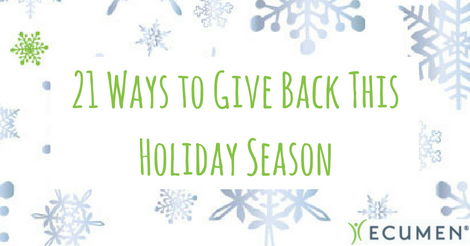 "You cannot do a kindness too soon because you never know how soon it will be too late."— Ralph Waldo Emerson
This holiday season remember that sometimes the best gift is not a material gift at all. Taking the time to spread kindness and generosity is a way to actively live out the true meaning of the holidays.
Fauzia Burke, writing in The Huffington Post, offers "21 Ways to Give Back This Holiday Season." See her list below or read the full article here.
1. Call a friend you haven't talked to all year.
2. Spread good news about someone.
3. Collect cans of food and donate them to a food bank.
4. Gather up your old coats and donate them to Goodwill or a homeless shelter.
5. Pay for someone's layaway anonymously.
6. Run an errand for someone.
7. Buy books for strangers. Books can change lives.
8. Give an unexpected generous tip to make someone's day.
9. Buy someone in your family a journal and inscribe in it your best life lesson on the first page.
10. Bake some holiday cookies and share the sweet merriment with your neighbors.
11. Leave a note of cheer on someone's windshield.
12. Sign up for a holiday 5K because the money goes to a good cause.
13. Donate possessions you no longer need to the Salvation Army.
14. Bring a box of toys to a children's hospital.
15. Have a beautiful photo framed and send it as a gift to someone special.
16. Smile at a stranger.
17. Give a genuine compliment every day.
18. Bring treats to the office to share with coworkers.
19. Donate blood and save a life.
20. Bring some blankets, dog food or pet toys to the animal shelter.
21. Write a note or email of appreciation to someone who has positively impacted your life.