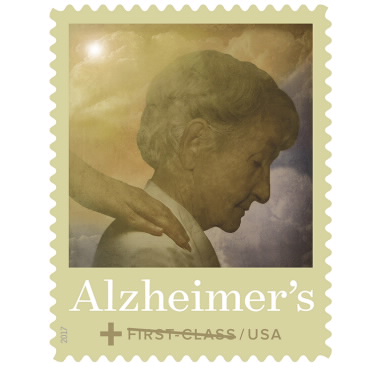 The U.S. Postal Service is now offering a stamp with a fundraising mission to fight Alzheimer's disease.
The first-class stamp, which sells for 60 cents, shows an older woman in profile with a caring hand on her shoulder with the suggestion of sunlight behind her and clouds in front of and below her. It is part of the U.S. Postal Service's semipostal stamp program, which permits the sale of first-class stamps above the usual cost.
The price includes the first-class single-piece postage rate in effect at the time of purchase plus an amount to fund Alzheimer's research. By law, revenue from sales of the Alzheimer's Semipostal stamp — minus the postage paid and the reimbursement of reasonable costs incurred by the Postal Service — will be distributed to the National Institutes of Health, which spearheads research into Alzheimer's disease.
The funds raised will also expand awareness of the disease, which is now the sixth-leading cause of death for American adults. More than 5 million Americans are living with Alzheimer's disease, a progressive form of dementia with no known cure.
All postage stamps are available for purchase at Post Offices, online at usps.com, and by toll-free phone order at 1-800 STAMP-24.