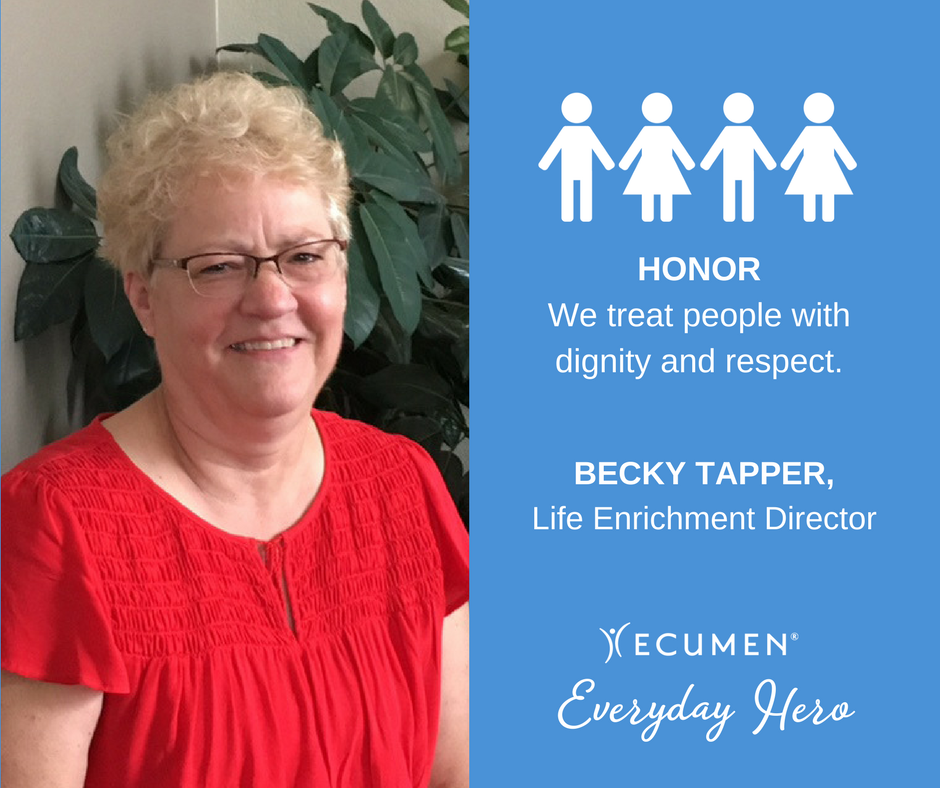 Throughout August, Ecumen is celebrating its 10th Best Place to Work honor from the Minneapolis-St. Paul Business Journal by recognizing employees who live our values every day.
Becky Tapper personifies honor. She is all about honoring the wishes and needs of residents at Ecumen Sand Prairie. She builds the daily activity calendar on what they want to do – constantly finding ways to honor their lives.
When a married couple wanted to renew their vows, Becky was all in, enthusiastically organizing the ceremony. When a resident expressed interest in going to the last Vikings training camp in Mankato, Becky got busy organizing the trip. When a resident wanted to go the dirt track auto races in Arlington, MN, Becky made it happen, even though she hates the noise. When a resident's son died, she organized a flag dedication.
She puts time and care in everything she does. You can tell this is not a job for her. It's a calling and a passion. She frequently brings hand-cut flowers from her garden to make residents feel more at home. And she helps residents honor staff by assisting them in creating thank-you care packages.
Thank you, Becky, for living our values by so unselfishly honoring others. Today Ecumen honors you!
–Rachel Hauschild, Resident Services Manager, Ecumen St. Peter
Ecumen's core values guide our company and our employees:
SERVE: We put people at the heart of what we do.
INNOVATE: We find new ways to exceed people's expectations.
EMPOWER: We encourage people to dream and take action.
HONOR: We treat people with dignity and respect.