You may remember the uplifting story of Furless Fred from this time last year. It was one of the Changing Aging Blog's all-time-most-read stories about a sad little dog rescued from dire circumstances and nursed back to health by Glory Hill, the Housing Manager at Ecumen Lakeview Commons in Maplewood, Minn. Since he has so many friends and Facebook followers, we thought an update is in order.
—
Sometimes, a picture is the best way to tell a story. Here's Fred just over a year ago compared to now: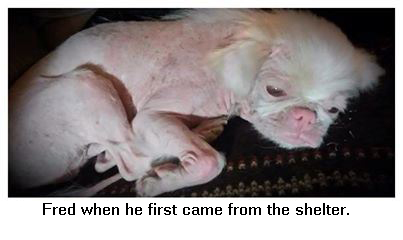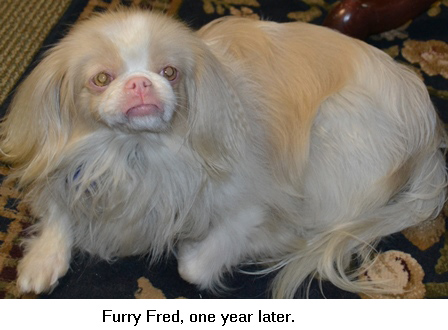 Today, Fred is happy, healthy and full of confidence. He's gained about two pounds, which is a lot if you only weigh 13.
It turns out that Fred, who was rescued from an Arkansas high-kill shelter, just loves the cold Minnesota weather — now that he has his fur back. "He just hops through the snow," says Fred's owner, Glory Hill, the Housing Manager at Ecumen Lakeview Commons. "It doesn't faze him at all."
But this time last year, when he was furless, Fred was always bundled in the many sweaters his admirers made for him. He has quite a wardrobe, in evidence on his popular Facebook page. Fred is a hairy albino Japanese Chin — a catlike breed of dog cultivated by Japanese and Chinese nobility — specifically to live in luxury.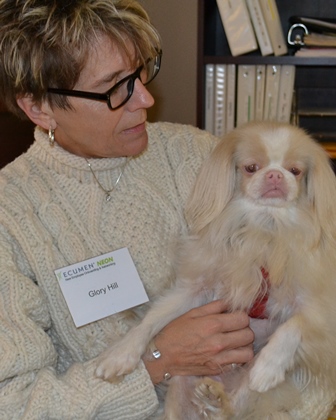 He is the kind of dog that makes instant friends. "He just has an aura about him," Glory says. "He's so trusting. He loves people and stops to greet them. And he's especially good with older people."
That's fortunate for many of the residents of Ecumen Lakeview Commons, who love having him sit in their laps. Glory says several residents come around to her office and take him for hours at a time, especially when they know she is busy.
"He can be anybody's dog," she says.
Peg Ricci, RN, who is the clinical director at Lakeview Commons, says Fred is an engaging subject of conversation for residents. "And he brings smiles," she says. "Even people who don't smile much will smile when he's around. You can't be sad when you watch him walk down the hall."
Peg was there the first time Glory saw Fred, when he was posted online for adoption. She recalls: "Glory said, 'Oh, I love that dog!' And I said, 'Are you crazy! Really?' I was thinking: That's a homely dog if there ever was one."
And now Peg acknowledges: "It was just meant to be. We are good for him, and he is good for us."
While Fred is loveable and cuddly, he is not the top dog at Lakeview Commons. That would be Gus, who is the official therapy dog. Gus is a rescue Border Collie, who replaced the now-deceased Bauer, Fred's first dog buddy at Lakeview Commons.
"Fred is a lap dog who likes to be adored," Peg says. "Whereas Gus loves to play. Gus is all about play in every minute of every day."
For example, Gus loves herding Fred around the community room.
And the residents love to watch — and smile. Peg says Gus and Fred bring the "home part of life" to Lakeview Commons. Dogs just being dogs help people feel more at home.