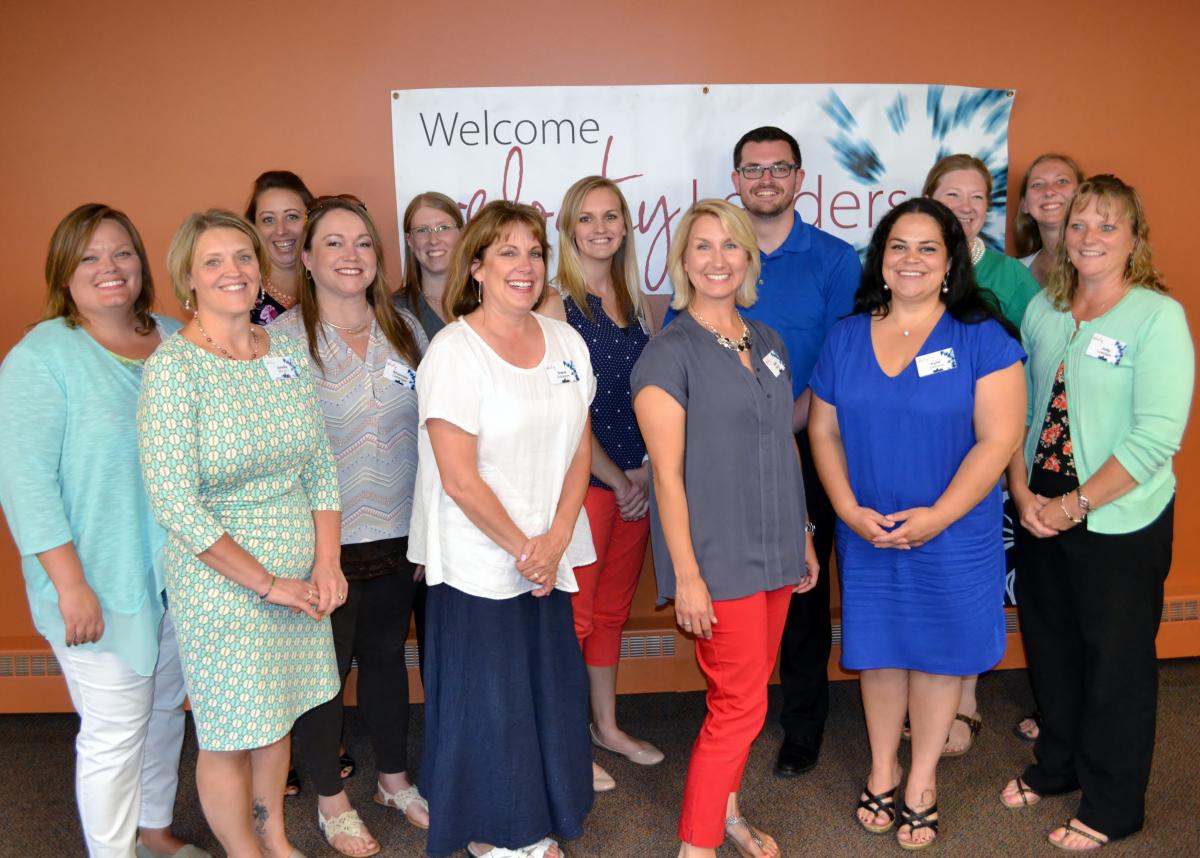 Velocity 2017 Class and Mentors: (Left to Right) Front row: Christina Nessman, Janelle Meyers (mentor), Sharon Leininger, Diane Erickson, Kelly Maas, Kylie Johnson, Judy Loecken. Back row: Christy Johnson (mentor), Gail Guck, Gabbi Langan, Brett Anderson, Anne Diekmann (mentor), Nicole Anderson.
The Ecumen Velocity class of 2017 has just graduated from the year-long program focused on building leadership skills and developing innovative approaches to aging services.
The 10 members of the graduating class wrapped up with a July 12 closing ceremony, where they presented their action-learning projects to the company's senior leaders and Velocity alumni.
The Velocity program, now in its eight year, focuses on building leadership skills with emphasis on encouraging broader thinking, exploring innovative approaches, and developing each individual's authentic personal leadership style. To practically apply the course work, the class has an action-learning project that addresses real issues facing Ecumen and the aging services industry. This year projects dealt with onboarding and retaining employees and creating financial best practices across sites.
"Velocity is tied very closely to who we are as a company," said Carolyn Perron, Ecumen Vice President of Organizational Development, who leads Velocity. "This is a home-grown program to help our leaders put our company's aspirations into action."
The program emphasizes collaborative problem-solving that incorporates different approaches and perspectives. Participants come from all parts of the company, and graduates cite exposure to the diverse thinking of their colleagues as a key benefit of the experience, along with the strong bonds that form with colleagues.
"My Velocity journey was like going to camp," said Diane Erickson, Clinical Software QI Nurse. "You bond with people in such a way that the relationship building that occurs surpasses everything – and is so worth the time and effort."
Gabbi Langan, Executive Director at Ecumen Seasons at Maplewood agreed. "I will forever treasure those relationships and friendships that were built," she said. "And I love that everyone had the ability to open up, get personal, and be honest and authentic with each other from day one."
Graduates describe the program as a journey of self-discovery — as much about personal growth as professional growth.
"I learned that we all start differently and to go from where we start," said Nicole Anderson, LSW, Social Services Director at Ecumen North Branch. "Like golfing, you need to take your next shot from where the ball lands."
Said Kelly Maas, Sales and Marketing Manager, Ecumen Brooks and Countryside: "Velocity taught me to channel my emotional intelligence by digging deeper into who I am at my core, being comfortable in my skill sets and celebrating my strengths. Overall, this leadership program was by far the most engaging, connecting, and powerful self-development program I have gone through outside my college courses."
"I have seen an increase in my productivity, critical thinking, and self-care, which I don't think I would have been able to achieve on my own," said Christina Nessman, Staff Development RN, Ecumen Bethany Community. "The great thing about Velocity is that is replicable. I took my new knowledge and applied it to my personal life, which has helped me become a better mother, wife, and friend."
Kylie Johnson, Housing Manager at Ecumen Detroit Lakes said: "I've learned to slow down, gauge others, ask good questions, and listen. My learning has strengthened my relationships… all of them. Peers, residents, leadership, customers/vendors. Velocity has also helped me define my leadership strengths and capabilities and look forward to more – what's next?!"
Additionally, graduates praised the program for helping them to better understand themselves and their leadership styles.
"I really enjoyed being able to explore a number of personalized assessments on leadership styles, abilities, and emotional intelligence," said QI Nurse Brett Anderson. "Using this feedback and insight in conjunction with Velocity teaching allowed me to explore ways to leverage and build upon my strengths while simultaneously improving areas ripe for development. I am ultimately more comfortable with my leadership style, yet I am more reflective as a leader and have a greater awareness of how my style may influence others. As the Velocity journey ends, I find I tend to have a more focused approach on empowering others."
Judy Loecken, LSW, Hospice Social Worker at Ecumen Hospice-Litchfield said: "The opportunity to attend Velocity was a gift. If I had to choose one idea that touched me the most, it was learning about the "incomplete" leader, which sheds a different light than the labels "good" or "bad" leader… Learning about the incomplete leader has encouraged my heart to accept my strengths and to embrace my weaknesses, knowing that I can count on the team to make everyone better."
Each year the incoming Velocity class members do self-assessments and get feedback from coworkers to inform the emotional intelligence and authenticity segment of the program, which marks the start of the process. Participants spend 10 to 15 hours a month on Velocity program activities. Four times during the year, the group gathers for a two-day session that includes in-depth discussions, readings and conversations. They also have an action-learning project, designed to address major issues and challenges Ecumen and the aging services industry is facing.
The program is built around Ecumen's values of "Innovate, Empower, Honor." For inspiration, Velocity participants go on site visits outside the organization to see these values in action. The 2017 class went for innovation to 3M; for empowerment to Interact Theater, which challenges perceptions of disabilities; and for honor to Honor Flights, an organization that takes veterans to Washington D.C. to visit and reflect at their war memorials.
Perron and John Oliver, IT Director of Application Development & Support, co-facilitate Velocity, and mentors from Ecumen senior leadership work closely with participants. In 2017, the mentors – all graduates of Velocity – were Anne Diekmann, Quality Improvement Nurse; Christi Johnson, Recreation Therapy Director at Ecumen Parmly LifePointes; and Janelle Meyers, Director of Innovation.
Following is a listing of the Velocity 2017 graduating class:
Brett Anderson, QI Nurse, Ecumen Home Office
Christina Nessman, Staff Development RN, Ecumen Bethany Community
Diane Erickson, QI Nurse – Clinical Software, Ecumen Home Office
Gabbi Langan, Executive Director, Ecumen Seasons at Maplewood
Gail Guck, Finance Manager, Sunnyside
Judy Loecken, Hospice Social Worker, Ecumen Litchfield
Kelly Maas, Sales and Marketing Manager, Ecumen Brooks and Countryside
Kylie Johnson, Housing Specialist/Manager, Ecumen Detroit Lakes
Nicole Anderson, Social Service Director, Ecumen North Branch
Shannon Leininger, Clinical Director, Ecumen Bethany Community