Ecumen Receives Shavlik Family Foundation Grant for Technology at New Detroit Lakes Center
The Shavlik Family Foundation has awarded Ecumen an $11,750 grant to bring the latest digital technology to seniors at its new aging services hub in Detroit Lakes, Minn.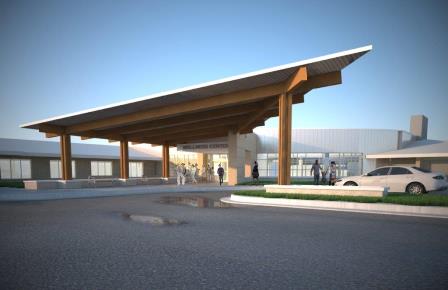 Construction currently is underway for an addition to Ecumen Detroit Lakes designed to transform how senior support services are provided in the area. The project, called The Commons, is envisioned as an innovative "one-stop aging services hub" that integrates technology, socialization, fitness, nutrition and health care to help keep seniors in rural Becker County healthy and independent.
The new addition, expected to open in late summer or early fall, will include a therapy center with a hydrotherapy pool, a wellness center with a bistro, a telehealth center and a business center. The Shavlik Family Foundation grant will help equip the business center.
The business center will offer seniors in the community access to user-friendly technology including high-speed Internet service and other digital and electronic resources such as email access and Skype, iPads, touch-screen computers, wireless printers, as well as faxing, scanning and copying equipment. The center will serve the entire Detroit Lakes and surrounding area, not just residents of the campus.
"We view The Commons approach as a prototype for how senior services will be delivered in rural areas in the future," said Janet Green, executive director of Ecumen Detroit Lakes. "We are so grateful to the Shavlik Family Foundation for understanding the critical importance of technology in helping seniors age in place and stay connected to the community."
The Shavlik Family Foundation, of White Bear Lake, Minn., was started by Rebecca and Mark Shavlik with part of the proceeds from the acquisition of their company Shavlik Technologies in 2011, and "recognizes that access to information and technology is a basic need in our modern society and created the Foundation to provide grants to Minnesota-based non-profits to enhance access to and knowledge of technology for non-profits and the people they serve."
Green said the hub will be a place for people in the community "to learn and have fun," as well as a place to come for healthcare services. Although seniors are expected to be the primary users, she said the hub will have programs that cross generations.
"We have to reinvent how we care for seniors, especially in rural communities," Green said. "Using the hub concept and the latest technology we plan to create an environment where seniors can find all the services they need to stay healthy and live independently in their homes — and stay connected to the community."