Thankful Family Honors Grand Village Caregivers
Her phone was ringing off the hook. Roberta Alzen, the director of nursing at Ecumen-managed Grand Village in Grand Rapids, Minn., was caught off guard.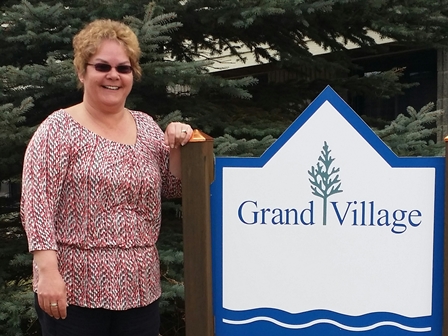 "Have you seen the paper?" the callers all wanted to know. She had not, but would quickly find out that she and the staff at Grand Village were being honored in a deeply touching way.
Prominently displayed on the editorial page of the Sunday Grand Rapids Herald Review was a letter from a grieving mother who had just lost her son.
Dottie Wilde of Grand Rapids had just said goodbye to her son, Donald. He was only 55. In 2012 he had a stroke and never fully recovered.
Now she wanted everyone in the community to know how well he had been cared for the last two years of his life at Grand Village — two very difficult years. "I was so thankful he was in such a good home and he got the best care he could have received," Dottie wrote. "Everyone is so caring and so kind and they give such good nursing care to everyone."
What made this appreciation so much more meaningful was Dottie's background. "I spent 42 years in nursing myself," she wrote, "so I feel I know what good patient care is. I feel the nursing staff not only takes care of the residents and patients but they also take care of the families of the residents."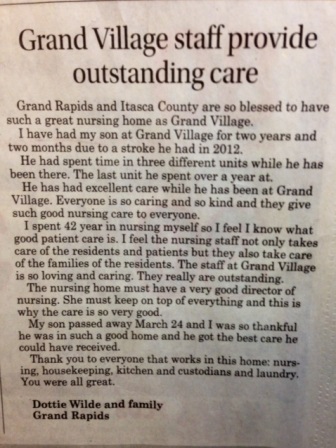 And there was special mention of Roberta, as the director of nursing. "She must keep on top of everything and this is why the care is so very good," Dottie wrote. And she concluded: "Thank you to everyone that works in this home: nursing, housekeeping, kitchen and custodians and laundry. You were all great."
Roberta said everyone at Grand Village was moved by such heartfelt and public thanks. She said because Donnie was so young and had so many challenges, he was a special member of the community. Everyone got involved in his care, and he, in turn, did what he could to help take care of the older members of the community.
"We all worked as a team," Roberta said.
In this small community, Roberta said sometimes family members of residents will recognize her on the street and give her a hug. But this is the first time she and her staff have been honored so publicly.
And it means a lot. She said everyone on the staff learned from the journey with Donnie. And then — that day when they picked up the paper — they learned just how much what they did really mattered.