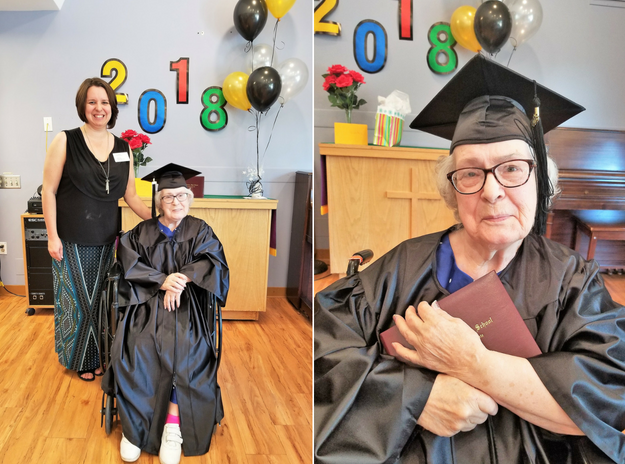 Eighty-year-old Nancy Abrahamson's dream of a high school diploma came true June 21, 2018, at Ecumen Scenic Shores Care Center in Two Harbors, Minn.
After her 80th birthday, Nancy discussed her dream of getting her high school diploma with Bethany Delvas, the assistant administrator at Scenic Shores, where Nancy has been living since 2016. Bethany, in turn, reached out to the principal at Two Harbors High School and told him Nancy's story.
When Nancy was younger her parents took her out of Two Harbors High School to help support the family, and she always longed to have a diploma. The principal graciously agreed to present Nancy with an honorary high school diploma for the years she attended school – and for her life experience.
It was the first-ever high school graduation at Ecumen Scenic Shores. Bethany walked Nancy in to The Graduation March song with her six-year-old great granddaughter.
Nancy was delighted and had words of wisdom for younger generations: take it slow, study, and don't goof off!
"It was such a wonderful experience!" Bethany said.