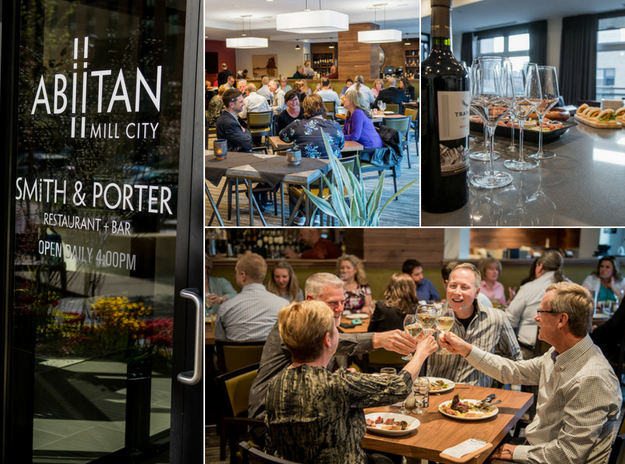 National Elite Magazine has named Smith & Porter Restaurant + Bar among the top 10 restaurants in Minnesota in its 2018 national awards.
Smith & Porter, operated by Ecumen in the Abiitan Mill City building at 428 South 2nd St., Minneapolis, is a modern American scratch kitchen with a chef-driven menu and casual atmosphere. It is open for dinner seven days a week with a large patio and also serves Sunday brunch. The restaurant is two blocks from the Guthrie Theater and the Mill City Museum and across the street from the MacPhail Center for Music.
The Smith & Porter menu offers contemporary entrées and small plates, vegetarian options, and a full bar with a tailored selection of wines and locally crafted spirits and beers.
"We are thrilled to have selected restaurants that we feel exemplify the leaders in the culinary industry at this time," National Elite said in announcing the awards. "Our 2018 Best Restaurants Award Recipients are at the forefront of innovation and education, constantly working to develop new techniques and flavors for the delight of their patrons and we are honored to recognize them."
Smith & Porter is on Facebook, Instagram and Yelp. Reservations are available at www.smith-porter.com and on Open Table.
Smith & Porter's sister concept, the Porter Café, located adjacent to the restaurant, is open daily from 7 a.m. to 4 p.m. with breakfast and lunch menus, "grab and go" options, barista-inspired warm and cold beverages, daily features and specially prepared entrées.