Top 10 Holiday Gifts for Seniors
If you are searching for gifts for the seniors in your life this holiday season, look no further!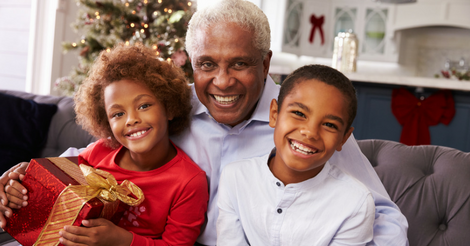 If you are searching for gifts for the seniors in your life this holiday season, look no further. Here are our Top 10 Holiday Gift Ideas for Seniors:
1. Scrapbook or Photo Album – Create a scrapbook that includes both current and historical pictures of family, friends, vacations and collages of happy memories. The scrapbook can be a helpful way to start conversations when visiting your loved ones. Online scrapbooking services like Shutterfly or Snapfish are a user-friendly option for this gift.
2. Hobby-related gifts – If your loved ones like to knit, get them yarn. If they love to bird watch, buy them new binoculars. These practical gifts will be put to good use and cherished.
3. Custom calendar – As we age and our circle of family and friends grows, it can be very helpful to have all important dates organized into one central calendar. Create a calendar that includes all special dates, such as birthdays and anniversaries, and add photographs to go along with them. Try Vistaprint or Staples to build your custom calendar.
4. Homemade foods – Nothing says the holidays like comfort food made from the heart – especially if the food is a favorite of your loved one or if it has special meaning to your family.
5. CDs and other forms of music – Music can be especially helpful for our loved ones with dementia or Alzheimer's. Include music from the era when they grew up to bring back special and joyful memories.
6. Technology to keep in touch – Often we don't see our loved ones as much as we or they would like. Easy-to-use devices like an iPad or other tablet can help you keep in touch. To be extra helpful, preload the device with the apps they will need to stay in touch with family, enlarge the fonts and turn up the sound before presenting the gift.
7. Services and products that encourage independence – Give your loved ones the gift of maid services, landscapers, meal delivery services or anything that may help them to maintain independence and leave them free to do more things they love to do. Items that assist with daily tasks, like automatic jar openers and remotes with large buttons, are helpful for those who live with chronic health issues.
8. Comfort and relaxation – Everyone appreciates being pampered, no matter what age. A massage gift certificate or spa gift card for a manicure or pedicure is a great option. For seniors who find comfort in their own homes, massage chairs or aromatherapy lotions can be very relaxing.
9. Brain Games – Whether your loved ones enjoy jigsaw puzzles, card games, or Sudoku, the gift of mental exercise can be both fun and important to brain health. For the senior interested in technology, purchase Lumosity, an online brain-training program.
10. Your time – Set up a weekly lunch or dinner date. Give your loved ones a call at the same time each week just to catch up and keep in touch. Simple acts like this can help prevent holiday loneliness through the gift of your priceless time and attention.