A Purposeful Woman: Wendy Griese, Life Enrichment Manager at Grand Village
Wendy Griese is very clear about her purpose in life. It's to help others find their purpose.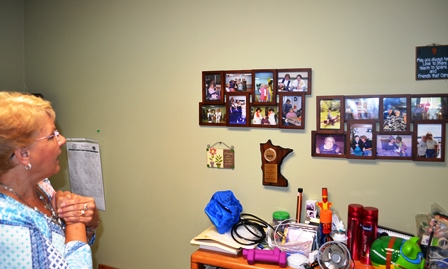 Wendy Griese is very clear about her purpose in life. It's to help others find their purpose.
She is a master of that mission. The cheerful pictures hanging on Wendy's office wall document her journey, which is now at a fork in the road.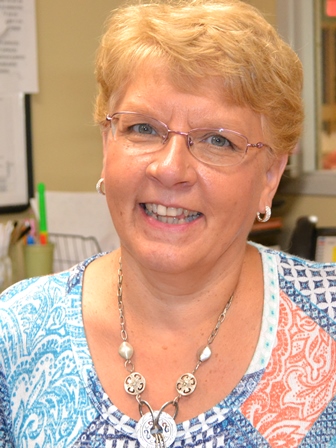 On September 30, Wendy will retire as Life Enrichment Manager at Grand Village in Grand Rapids, Minn., where for the past 30 years she has inspired countless residents, staff and volunteers to live fully and in service to others.
Wendy is deeply committed to the basic principle that everyone has an important purpose. Her special skill is helping others find the exactly right purpose for them as individuals. She has an uncanny ability to spot what will positively motivate someone. Her message is simple: You matter. You have a purpose. You have talents. You can make difference. Whatever your circumstances.
It's a message that resonates with people who have just moved into a nursing home. "I want people to feel good about their senior years," Wendy says. "Their last years should be good years. I want them to come here to live."
That office wall of photographs is a gallery of success stories. "Every picture is a story for me," she says. "Everybody is memorable. I love to look back on the smiles."
Working with her staff, Wendy creates a whirlwind of activities for residents, including at least one big party every month. There's swimming, fishing, shopping, bowling, zoo trips, bingo, pokino, blackjack, darts, singalongs, hayrides, dancing, gardening… creating active participation and a time that residents look forward to each day. She also loves singing and playing the guitar and uses music as a way of connecting with residents.
Wendy lets the needs of others guide her work. She has sat for hours with a dying resident or go out of her way to help family members grieve. She is the first to greet new employees and organizes regular appreciation events to honor the work staff does. Each month she organizes and helps cook a pancake breakfast so that residents and staff can share a meal together. And if an employee is out sick, she will step in to fill the gap. She will drive the bus, lead a church service, wait tables… whatever needs to be done.
Wendy thinks of the little things that touch people's hearts and create lasting memories. For this year's Mother's Day tea event, she went out of her way to surprise every mother with pictures and mementos from their youth at their place settings. The reaction was sheer joy across the room as residents reminisced.
When a Capitol Christmas Tree was cut in Minnesota and sent to Washington, D.C., a couple of years ago, Wendy inspired Grand Village residents to handcraft ornaments to decorate the tree— a source of immense community pride.
One of Wendy's major accomplishments over the years has been to make Grand Village a center of community activity. She has assembled and cultivated a robust network of volunteers of all ages who freely share their time and skills.
Every member of Wendy's team will tell you that she has looked in their hearts and mentored them on how to bring their authentic selves into their work.
Dawna Katlin-McKittrick, a Life Enrichment Assistant, recounts how she was new in the activities department when Wendy told her she was ideally suited for working with dementia patients. "That's how I found my life's work," she says.
Mary Augustyn, a Life Enrichment Assistant, who is also a potter, recalls how Wendy encouraged her to create an "empty bowls" program where residents make pottery, sell it to the community and give the proceeds to the local food bank. She doesn't just create activities to keep residents busy, she creates activities that give the residents a sense of purpose while benefiting the entire community.
Wendy's staff praises her for generously sharing her knowledge. But they also point out that she always asks: "What do you think?" And if you bounce an idea off her, a better-formed idea bounces back.
"She's taught me so much," says Sandy Bonham, a Life Enrichment Assistant. "She's always there for me through thick and thin. When I've needed encouragement along the way, she's always there to hold my hand."
In most every staff meeting, Wendy is known for asking: "How can we do better?" She embraces new ideas, change and technology, doing things like teaching residents how to FaceTime with their families. And she is quick to encourage staff to try new things. Yet when something goes wrong, she is forgiving and encouraging. If a staff member tries something that doesn't work, Wendy will say: "Well, let's just try something else."
Her staff says Wendy is constantly encouraging them, convincing them that they can make a difference. You can chose your attitude, she tells them. You can solve the problem. You can find a way. There are always obstacles. Just keep working until you find the right approach.
As her retirement draws near, Wendy looks at her photo gallery and reflects: "You know, there has never been a day when I dreaded coming to work. I just love working with seniors and getting them to smile."
She started at Grand Village as a Licensed Practical Nurse and gradually moved into activity work. Now that her kids are grown and she has seven grandkids, she thinks it's the right time to travel a little, enjoy her family and her hobbies and do more work for her beloved church.
"I have not lost my desire to be here," Wendy says. "I'll still be coming here to volunteer. It will just be on my clock."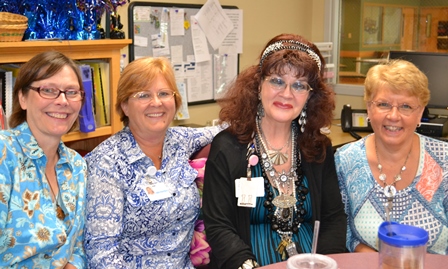 Grand Village Life Enrichment Staff (left to right): Mary Augustyn, Sandy Bonham, Dawna Katlin-McKittrick, Wendy Griese