Minnetonka Mayor Praises Zvago Glen Lake Cooperative at Ribbon Cutting Ceremony
Members of Zvago Glen Lake Cooperative in Minnetonka celebrated their new community with a festive ribbon-cutting ceremony May 23, 2017.
Members of Zvago Glen Lake Cooperative in Minnetonka celebrated their new community with a festive ribbon-cutting ceremony May 23, 2017. The group gathered on their deck overlooking the north shore of Glen Lake – on the spot where they held a soil-melding ceremony a year ago.
Minnetonka Mayor Terry Schneider officially welcomed the new 62+ community developed by Ecumen for people with active lifestyles. Many of the members are long-time Minnetonka area residents who downsized from their single family homes.
"I'm reaching that point when we may be wanting to get our names on the list, so I will be taking a tour as well," the mayor said. "This is a stage of life and a lifestyle that allows you to do what you want to do and maintain your connections."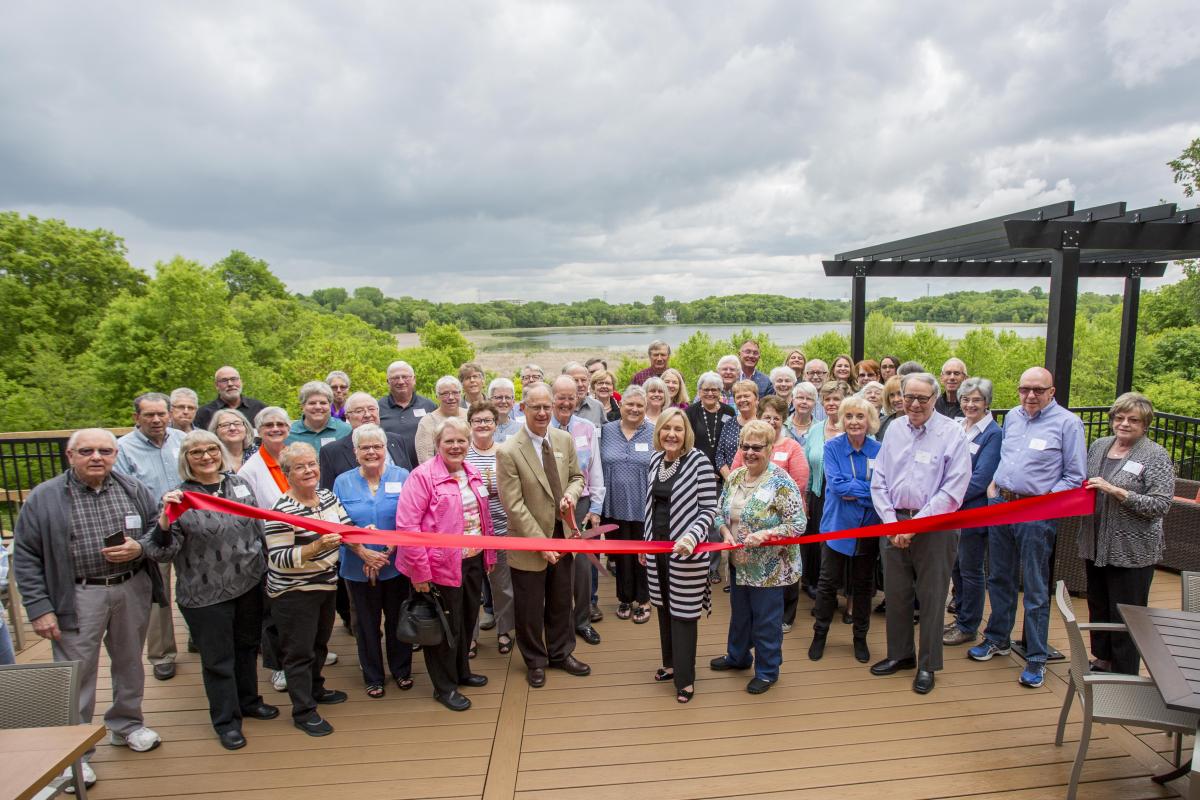 Joining the cooperative members for the ceremony were the Zvago staff and representatives from Ecumen and development partner Lifestyle Communities, LLC, along with those organizations working on the project: Frana Companies, the contractor; KaasWilson Architects, BDH & Young, interior designers; Gray Plant Mooty, attorneys; Doughherty Mortgage; Housing and Urban Development (HUD); and the City of Minnetonka. Mayor Schneider praised the team for a "phenomenal" job.
In mid-April residents started moving into the 54-unit co-op, located at 14301 Stewart Lane. An Open House for the General Public is scheduled for 10 am to 1 pm, Saturday, June 3, 2017.
Ecumen Chief Development Officer Julie Murray said Zvago Glen Lake was especially designed for "vibrant people who are done with single family homes and don't want to mow, do the yard and snow-blow – but who want to have fun and freedom and flexibility to travel." Also, she said this new breed of seniors wants "walkable communities so they can walk to the grocery store, the coffee shop, the liquor store and the dry cleaner."
Murray explained that Zvago is the Italian word for "fun, leisure and recreation." Zvago Glen Lake is the first in a series of Zvago cooperatives. Zvago is being developed by OneTwoOne Development, a partnership between Ecumen and Lifestyle Communities, a Bloomington-based development company.
Zvago Glen Lake is Ecumen's first senior cooperative project. Two similar Zvago co-op communities are now in development. Zvago St. Anthony Park in downtown St. Anthony Park in St. Paul and Zvago Central Village in Apple Valley are expected to break ground this year. Also, a Zvago site in Duluth on Lake Superior is in the planning stages.
Senior cooperatives are communities where residents buy shares of the corporation that owns the building — an ownership structure that offers financial advantages similar to traditional home ownership, along with lower costs of entry than many condominiums or townhomes. Plus, co-op owners have a strong say in shaping their community and how it operates.
For more information on Zvago Glen Lake call 952-679-8715 or click here to contact the sales staff online.
Click here to watch the evolution of Zvago Glen Lake through a time-lapse video on the Zvago Cooperative Living Facebook Page.