Let's Give a Big Round of Applause for Jerry Barnhart and Archie Cobb at Point Pleasant Heights
After more than 70 years performing together, Jerry Barnhart and Archie Cobb are still making people laugh.
Jerry Barnhart and Archie Cobb have been performing together for more than 70 years. They've traveled the world, bantering back and forth, telling jokes and finishing each other's sentences. They love making people laugh.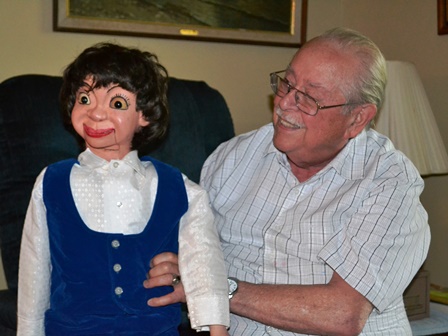 In 1949 and 1950, while Jerry was in the Army, they entertained the troops in Japan and Korea. Jerry would play the trumpet and MC shows, and he and Archie would do their routine. Back in the states, they had a radio gig for a time. Now they're both in retirement, but they'll gladly pull out the old act and do an impromptu performance wherever there's a willing crowd. That happened the other day at Ecumen's Point Pleasant Heights in Chisago City, where they entertained their fellow residents after a tenants meeting.
The relationship and the act have endured all these years because Jerry is a self-admitted ham ("sugar cured," he says), and Archie is a "dummy" (no disrespect intended). Archie is made out of wood and doesn't mind that Jerry puts words in his mouth.
Growing up in Aberdeen, SD, Jerry had admired Edgar Bergen's radio show and wanted to try his hand at ventriloquism. He built the first Archie himself and went on stage in a high school talent show. It was the beginning of a life-long hobby. But Archie the First (surnamed Cobb "as in corn cob") was heavy and unwieldy. "His head weighed nine pounds," Jerry said. "And I had to use a mousetrap spring to get his mouth to work."
When Jerry went into the Army in 1948, he bought Archie the Second from a Michigan magic store for $42. After Jerry finished Army band training school, he and Archie performed on a troop ship headed to Japan and did shows in Yokohama while Jerry was assigned to an Army band.
In late September 1950, with the Korean War in progress, the Army band landed at Busan, on the southern tip of the Korean peninsula. After three months, Jerry was invited to join an Army vaudeville-type road show called "Too Far East". He performed with the troupe for seven months near the 38th Parallel — the fight line between North and South Korea — in open-air shows. The performers, backed by an eight-piece combo, put on comedy skits, did musical numbers and had a great time lifting the spirits of other soldiers with songs like "The East Made a Beast Out of Me."
"In those years Archie became more of a ladies man script-wise," Jerry recalls. "But it was always a clean show."
After his June 1952 discharge, Jerry enrolled in the University of South Dakota in Vermillion on the GI Bill, studying for a radio and television degree. He also worked at KUSD, the university radio station. In 1955 he got his degree and landed a job at KELO TV in Sioux Falls, SD, as an engineer but kept doing radio shows on the weekend. That led to a daily six-hour music talk show just north of St. Louis — a show punctuated with frequent interruptions from Archie.
Then their career took a spiritual turn. Jerry got the call to the ministry in 1958 and went to seminary while serving a church near Chicago. Archie added children's moments to the worship service. Then in 1965, Jerry was ordained as a Methodist minister. "It is a call that you feel — that there is something more you can give of your life," Jerry says.
"In all the churches I served, if there were any kids, Archie was there," Jerry says. "The adults liked him too. The theological messages were there… ways to overcome hardship, ways to live with appreciation, love and acceptance. The message comes out with Archie."
After seminary Jerry returned to northeast South Dakota, ministering at several churches and hosting a half hour spiritual music talk show distributed in seven cities in the eastern part of the state.
In 1970 he moved to the St. Cloud, Minn., area, ministering at several churches and also hosting a panel talk show with high school students called "The Place," discussing the lyrics of pop songs and their relevance to the growing faith of youth.
During this period, Jerry and his first wife, Dorothy raised their three sons. One became a professional magician, one a nurse and one a teacher.
From the St. Cloud area, Jerry went to south central Minnesota, ministering at several churches, followed by a move to Mankato to serve as an ecumenical chaplain for three senior healthcare centers. That lasted 10 years. "These were very good years," Jerry says. In addition to services and visitations, he put on programs with poetry and inspirational thoughts for the residents. He retired in 1995.
While in Mankato, he met his second wife, June, who just passed away last September. They were married more than 30 years. During their time together, they retired to Rochester, Minn., where Jerry did some part-time ministerial work and did volunteer work at the Salvation Army adult day program. He also founded and produced a popular half-hour monthly cable access show called "Vets Visits on TV" that was distributed in more than 300 Minnesota communities and 30 states. For 15 years he produced the show as an informational and educational tool for veterans that included interviews with various veterans' organizations, topical issues of interest to veterans and stories about active and reserve military, veteran's groups, memorials and events throughout the Midwest. (Some of the shows are still on YouTube, and you can see a sample at this link.)
When June died, Jerry moved to Point Pleasant Heights to be closer to his sons. Here he is settling into a new life and staying busy. Recently, he organized the community's Memorial Day service.
Archie, meanwhile, is enjoying his retirement too. He looks great thanks to considerable cosmetic work he's had done over the years.
Today, after Jerry is interviewed, Archie comes out of the bedroom for a short visit. He and Jerry move seamlessly into their favorite joke — the one about the time Archie went on safari in Africa. The folks leading the safari told Archie that if he saw a leopard, he should shoot it on the spot.
Archie came home without a trophy, explaining to Jerry: "I didn't know which spot to shoot."