Kathryn Roberts Named Chair-Elect of LeadingAge Board of Directors
Kathryn Roberts, president and CEO of Ecumen, is the new chair-elect to the LeadingAge Board of Directors. LeadingAge is the national association of nonprofit aging services organizations.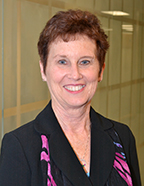 "Kathryn Roberts is a visionary leader who has created a culture of quality and innovation for Ecumen," said LeadingAge President and CEO Larry Minnix. "LeadingAge is privileged to have her share her passion and expertise with our association as chair-elect."
The LeadingAge Board of Directors is responsible for the governance of the organization, providing strategic direction, fiduciary oversight and development of policies. As chair-elect in 2014, and ultimately as Chair in 2015, Roberts will have the opportunity to help shape LeadingAge's work to transform the experience of aging in America.
Gayle Kvenvold, president and CEO of Aging Services of Minnesota said, "Kathryn is a leader in expanding the possibilities of aging, and will continue to bring her spirit of innovation, empowerment and collaboration to this new role."
Roberts' election marks the first time in association history that a member of Aging Services of Minnesota has been elected to this level of leadership position with its national association.