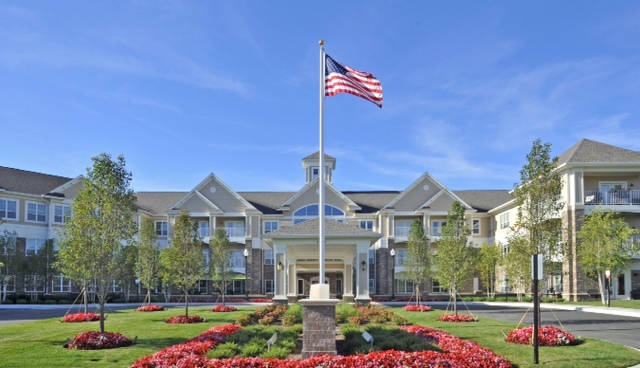 Ecumen is once again teaming up with Edward Rose & Sons, a Michigan real estate developer, on a new senior living community in Clinton Township, Mich., northeast of Detroit. The official ribbon-cutting ceremony is today.
Rose Senior Living-Clinton Township is Ecumen's second management contract with Edward Rose & Sons. A year ago, the two companies opened Heritage at Irene Woods in Memphis, Tenn., and together are planning another senior community in Avon, Ohio, near the Cleveland Clinic, scheduled to start construction this fall.
"We're very pleased to be working once again with Edward Rose & Sons and managing our first community in Michigan," said Matt McNeill, director of business development at Ecumen. "The Clinton Township development provides a luxurious senior living environment, along with with flexibility and choices offered nowhere else in the Detroit area."
Rose Senior Living-Clinton Township, adjacent to the Partridge Creek Mall and near Henry Ford Macomb Hospital, offers 176 units of senior living apartment homes – 70 independent senior living apartments, 58 assisted living apartments and 48 memory care suites. The housing mix allows residents to "age in place" by having access to more benefits and higher levels of service as their needs change.
"Throughout our history, we have been adaptive to changing market needs," said Warren Rose, CEO of Edward Rose & Sons. "In 2011 we set a vision that put us on a new course to develop senior housing. Rose Senior Living-Clinton Township is a natural step for us — a premier senior housing development right in our backyard and surrounded by a vibrant community rich with amenities, activity and character."
Rose Senior Living-Clinton Township, which will create about 100 full- and part-time jobs, opened August 15 to independent living residents and opened to assisted living and memory care residents this month.
An official grand opening will be held this Saturday, October 11, 2014.
The development is 188,000 square feet and is connected to outdoor gardens and walking trails with easy access to the mall and other local amenities. A three-story building houses independent and assisted living, and memory care is in an adjacent one-level building.
The new community has numerous amenities including three dining venues, concierge services, an arboretum, library and media room, club lounge, fitness and wellness studio, movie theater, chapel and an on-site bank and barber/beauty shop and spa.
Edward Rose & Sons, a privately held development firm headquartered in Bloomfield Hills, Mich., and founded 93 years ago, also owns and operates non-age restricted apartments in Alabama, Iowa, Illinois, Indiana, Michigan, Missouri, North Carolina, Nebraska, Ohio, South Carolina, Virginia and Wisconsin, including The Harbors, also located in Clinton Township.
Rose Senior Living-Clinton Township, located at 44003 Partridge Creek Blvd., is now taking reservations. For more information, go to the Rose Senior Living website or call 586-840-0840 or email clintontwpinfo@roseseniorliving.com.