Ecumen Nurse Maria Reyes' Personal "Awakening" and Triumph Over Adversity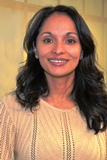 Ecumen Quality Improvement Nurse Maria Reyes learned valuable lessons taking care of her grandmother as a young teenager in Puerto Rico—lessons that still guide her today as she teaches other professionals about honoring and empowering the seniors in their care.
Maria's own determined journey to becoming a nurse was full of challenges, and her inspiring story recently was chronicled by her alma mater, Wisconsin Indianhead Technical College.
"There was something special about that girl," recalls Ann Charbonneau, an academic affairs assistant who remembers the day Maria showed up at WITC. "I knew in my heart of hearts that Maria would become a leader in the medical community someday."
Click here to read the moving story of how Maria found strength in adversity, found her calling and came up through the ranks at Ecumen, where she now champions the "Awakenings" program that uses non-pharmaceutical approaches to caring for those with Alzheimer's and other forms of dementia.