Ecumen has been named one of Minnesota's Best Places to Work by the Minneapolis/Saint Paul Business Journal for the 10th time.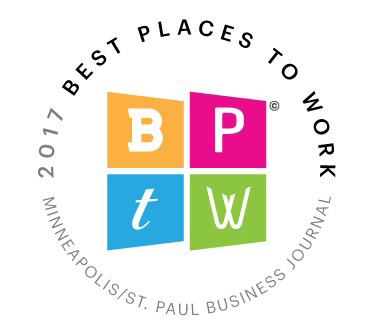 The award is based on rankings from an independently conducted employee survey in a variety of categories such as work environment, communication, leadership, teamwork, innovation, and employee development. Ecumen was honored in the large-company category along with organizations such as U. S. Bancorp, Ameriprise Financial and HealthPartners. More than 250 Minnesota companies competed for the Best Place to Work recognition.
Ecumen is featured in an August 18 Business Journal special section and was honored an August 17 awards ceremony at the Renaissance Minneapolis Hotel, The Depot.
"It is especially rewarding to be named a best workplace ten times," said Robin Dunbar Balck, Ecumen's senior vice president of administration and chief strategy officer. "This award is special because it's based on employee opinions and objectively compares us to companies across Minnesota. The need for high quality senior care is growing rapidly, and we are on a mission to ensure our workplaces are the best – so we can attract and retain the best caregivers."
"We're very fortunate at Ecumen to attract talented people who want to work with us and make lives better," Balck said. "We give top priority to creating a great workplace because taking good care of our employees is one of the best ways we can take good care of our residents. We are creating rewarding career paths in senior care and are always looking for people who want to join us on our mission to provide top quality care for seniors."
Ecumen employs nearly 4,000 people, primarily in Minnesota and also operates in Wisconsin, North Dakota, Ohio, Michigan, Indiana, Idaho and Tennessee, serving about 20,000 seniors annually.