Ecumen Meadows' Arlene Schlichte Turns Her Hobby Into a Charity for Children
Arlene Schlichte, 87, has created a charitable cottage industry headquartered in her apartment at Ecumen Meadows in Worthington, Minn. For the past six years, she has been crocheting scarves by the hundreds and donating them to Worthington children who need help fighting off the winter cold.
Worthington is a place where many children come from warmer climates, unprepared for the Minnesota winter. Arlene's daughter-in-law, a Worthington first grade teacher, brought this to Arlene's attention and asked if she would crochet some scarves for the class.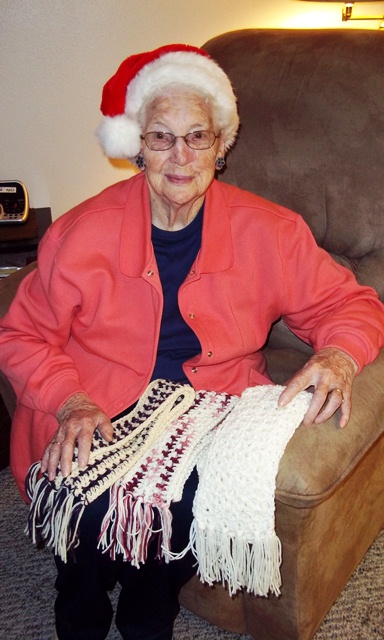 So the first year, Arlene crocheted 25 scarves. Then the teacher in the adjoining room saw the children wearing Arlene's scarves and wondered if her class could have some too. Then word started to spread to other classrooms and other schools, and before Arlene knew it, she was crocheting more than 100 scarves. And enjoying every minute of it.
Arlene loves to crochet, so being able to help children with her skill took the joy of her hobby to a new level.
Crochet has been such a part of Arlene's life that she can't pinpoint exactly when she started doing it. Over the years, she has made afghans for her six children and 18 grandchildren and takes great pride in that work. Arlene and her husband, who is now in a care center, raised their family in Wilmont, Minn., where they owned a service station. Arlene kept the books and also worked part-time at the Wilmont Post Office.
She has another hobby that she combines with crocheting — watching sports on television. She loves to follow Minnesota sports teams, so she pulls up a chair in front of the TV set and watches a game while she crochets a scarf. Each scarf takes about two hours, and she does one a day.
"It's a relaxing thing for me," she says.
So far, she has only heard about the results of her work by word of mouth. "I don't get out much, but someday I would like to walk into a store or somewhere and see one of the children wearing one of my scarves."
How would she know if it's a scarf she has made? "I will know," she says with a confident smile.