Ecumen Lakeshore in Duluth Wins Aging Services of Minnesota Innovation Award for Medication Management Program
Ecumen Lakeshore in Duluth, Minn., in partnership with Thrifty White Pharmacy, has received the Aging Services of Minnesota's Leading Change Innovation Award for a medication management program that has helped reduce hospital readmissions.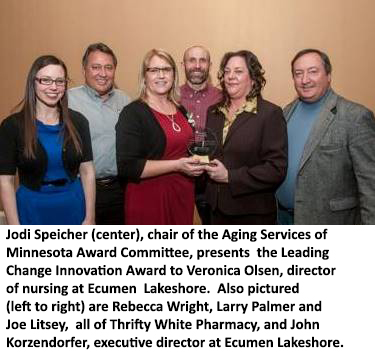 The program is designed to ensure that patients leaving short-stay rehabilitation at Ecumen Lakeshore know when and how to take their medications and what to do if they have problems.
As part of the discharge process, a nurse and an occupational therapist do an evaluation to make sure patients ready for discharge can read and understand their medication labels and can open the bottles. Then a nurse holds a meeting with the patients and their families to discuss any issues and conducts a pharmacy education session.
The pharmacy education, developed by Thrifty White and Ecumen Lakeshore, includes an interactive web-based session with a registered pharmacist. The nurse uses an iPad to connect with the pharmacist, who then explains to the patient and family how to take all the prescribed medications and answers their questions.
The patient receives an action plan for medication management before discharge and a 30-day supply of medication through Thrifty White. Then the pharmacist follows up in 72 hours for a check-in and does another follow-up in three weeks.
Just making sure that patients fully understand the basics of their medications and how to take them reduces readmissions, said John Korzendorfer, executive director of Ecumen Lakeshore. "So often," he explained, "people are so glad to be going home that they have trouble focusing on anything else. The detailed discharge procedure, the iPad pharmacy education and the pharmacist's follow-up all work to minimize mistakes or lapses in memory."
The innovation award was presented at the 2014 Aging Services of Minnesota Institute on February 5, 2014, in Minneapolis. Korzendorfer said Ecumen is looking at ways to adapt the Lakeshore program to short-stay sites throughout the company.