Ecumen Holiday Giving Campaign
The Ecumen Home Office conducted its annual Holiday Giving Campaign to collect gifts for Ecumen residents. Tags with items residents want are placed on the lobby Christmas tree, and employees buy those gifts for the residents.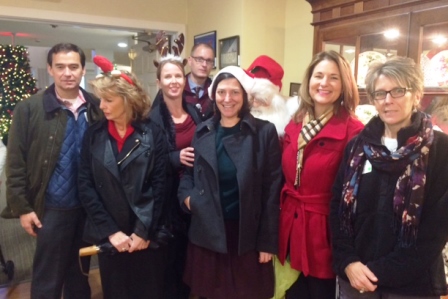 This year, gifts were delivered to Ecumen Prairie Lodge in Brooklyn Center and Ecumen Lakeview Commons in Maplewood by the Sales & Marketing and Business Development team, pictured here. (From left to right Mark Lucas, Jacque Milm, Angi Moore, Matt McNeill, Anne Stanfield, Julie Murray and Glory Hill, Housing Director at Ecumen Lakeview Commons.)
Below, Julie Murray, Chief Business Development Officer and SVP of Sales and Marketing, chats with Prairie Lodge residents Dorothy and Patty.