Ecumen Detroit Lakes Fundraising Effort Leads To $50,000 Otto Bremer Foundation Matching Grant for New Short-Stay Rehab
Ecumen Detroit Lakes, now undergoing a major remodeling and expansion, recently celebrated receiving a $50,000 grant from the Otto Bremer Foundation to match the more than $50,000 it raised in the local community.
Since the campus is also observing its 50th anniversary in 2014, the celebration event was named "50-50-50 Charity Benefit" and brought the community together to fundraise through sponsorships, donations and a silent auction. In addition to the $50,000 matching grant, Bremer has also donated another $25,000 toward the project, bringing their total contribution to $75,000.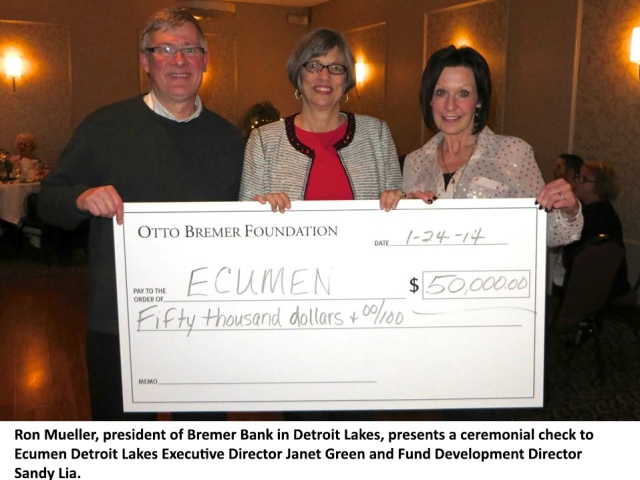 Ecumen Detroit Lakes Executive Director Janet Green thanked the donors and participants for their support, announced that the $50,000 goal had been met and accepted a $50,000 ceremonial check from Ron Mueller, president of the Detroit Lakes Bremer Bank.
The money will go to help build a new short-stay rehabilitation and wellness center that has been under construction since September 2013 and is expected to open in August 2014. The Margaret A. Cargill Foundation is the lead grant funder, with a $3 million contribution, and Ecumen is investing $8 million in the project.
The project is a key component of what is envisioned as an innovative "one-stop aging services hub" that integrates technology, socialization, fitness, nutrition and health care to help keep seniors in rural Becker County healthier and independent. The new addition will include a therapy center with a hydrotherapy pool, a wellness center with a bistro, a telehealth center and a yoga room. The project also includes updating other areas of Ecumen Detroit Lakes campus, including the installation of new carpet and flooring and upgrading of bathrooms to better meet the care needs of residents.
"This project is preparing us for the next 50 years," Green said. "We're going to be able to serve people better and differently."