Ecumen Century Club: Happy 101st Birthday Eva Nielsen
Ecumen honors Eva Nielsen, a resident of Ecumen Parmly LifePointes, who is 101.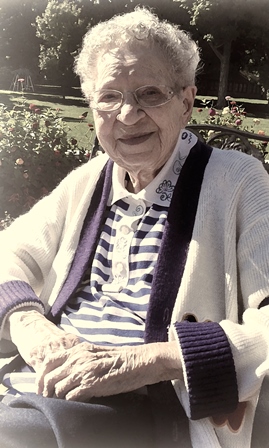 Ecumen honors Eva Nielsen, who is 101.
Born: Aug. 5, 1914, in Saint Paul, Minn.
Residence: Ecumen Parmly LifePointes in Chisago City, Minn.
Hobbies/Interests: Cooking and baking.
Family: Married to Edward for 50 years. Seven children and grandchildren, great grandchildren and great-great grandchildren numbering more than 70.
Occupation: Homemaker and working in her mother-in-law's restaurant in Saint Paul.
Secrets to Longevity: "Taking care of my family."
Interesting Facts: Eva remembers growing up in Saint Paul and going to the Como Park Zoo, where she enjoyed watching the lions. Her family would also go to Minnehaha Park to roller skate in the summer and ice skate in the winter. She remembers Saint Paul with tar roads and shorter buildings, which were made mostly of wood or brick. "Saint Paul is a great city," Eva says. "I loved it!"
Congratulations on your 101st birthday, Eva! Ecumen honors you.