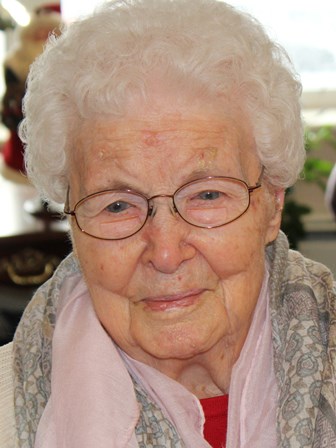 Ecumen honors Grace Larson, who is 100.
Born: March 12, 1916, in Montana.
Residence: Clarkfield Care Center in Clarkfield, Minn.
Hobbies/Interests: Grace's primary interest was raising her family and being a great homemaker. She gardened, canned vegetable and was an excellent cook. During her free time, she enjoyed embroidery and was active in her church.
Family: Married to Olaf, now deceased, for 65 years. Together they had 3 children, 11 grandchildren, 26 great-grandchildren and 2 great-great grandchildren.
Secrets of Longevity: Leading a good, clean life. Always took care of herself and did not smoke or drink alcohol.
Other Interesting Facts: Olaf would invite the grandchildren to stay overnight to go hunting early the next day. Grace would get up at 4 a.m. so she could send them off with a big breakfast. Grace and Olaf had a lake home where the family made many memories together.
Occupation: Worked in a grocery store before she was married. After marriage, she was a homemaker.
Congratulations on your 100th birthday, Grace! Ecumen honors you.