Ecumen Century Club: Happy 100th Birthday Ethelyn "Sam" Thunstrom
Ecumen honors Ethelyn "Sam" Thunstrom, a resident of Ecumen North Branch, who is 100.
Ecumen honors Ethelyn "Sam" Thunstrom, who is 100.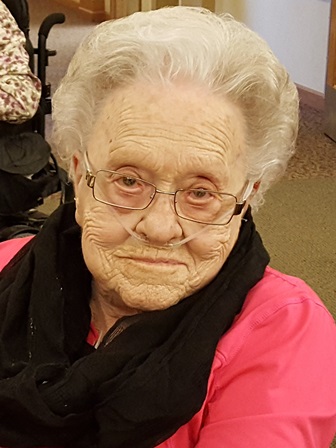 Born: October 21, 1916 in North Branch, Minn.
Residence: Ecumen North Branch.
Hobbies/Interests: Really enjoys traveling and gardening. (In her first garden, she made the mistake of planting 20 zucchini plants and was overwhelmed with zucchini.)
Family: Married to Wallace, now deceased, for 40 years. Three children, 5 grandchildren, 8 great-grandchildren.
Occupation: Worked at Montgomery Ward.
Secrets of Longevity: Good genes and trying to live healthy.
Interesting Facts: Sam has always been fearless. In addition to driving like Mario Andretti, she would always stand up to anyone she thought was doing wrong. One day she chased a car down the street and broke her fingernails trying to pull off the license plate because she knew the driver had been trying to steal something from her neighbor's garage.
Congratulations on your 100th birthday, Sam! Ecumen honors you.