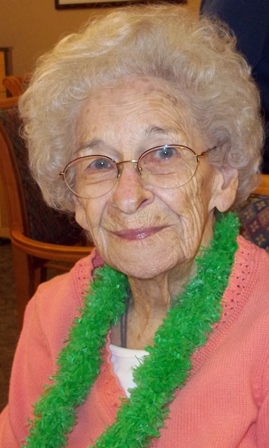 Ecumen honors Dorothy Hallstrom, who is 100.
Born: Jan. 31, 1916, on a farm near Bigelow, Minn.
Residence: Ecumen Meadows in Worthington, Minn.
Hobbies/Interests: Crochet and crafts. Avid Minnesota Twins fan. Likes cats and always had one in the house. Played piano for many years at church and Sunday school and also for services at Ecumen Meadows.
Family: Married Melvin during the Great Depression and they were together for 59 years. Four children, 10 grandchildren, 15 great-grandchildren and 1 great-great grandchild.
Occupation: Homemaker.
Secrets of Longevity: Hard work and good health.
Interesting Facts: Dorothy has a reputation as a melt-in-your-mouth cookie baker. She faithfully comes to exercise and spiritual activities each week. ("She is attractive inside and out," says Cheryl Dinsmore, Life Enrichment Manager at Ecumen Meadows. "She's a very sweet, kind lady.)
Congratulations on your 100th birthday, Dorothy! Ecumen honors you.