Abiitan Mill City Executive Director Erwan Moison Speaks the Language of Hospitality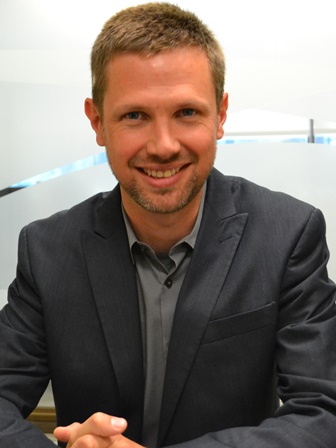 When it comes to customer service, Abiitan Mill City's new Executive Director does not mince words.
Julie Murray loves to tell the story about how Erwan Moison got the job as Executive Director of Ecumen's new Abiitan Mill City community with an eight-word answer to an interview question that "gave me goosebumps."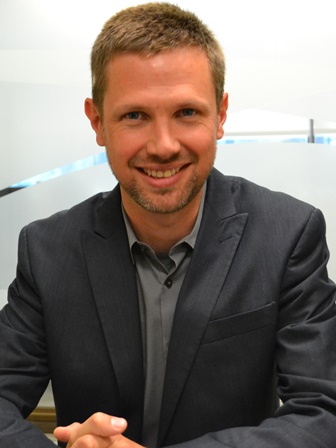 Erwan was sitting across the table from Julie, who is Ecumen's Senior Vice President for Sales & Marketing and Chief Business Development Officer. She lobbed him a softball question: "What is your philosophy of customer service?"
He paused, thought a few seconds, and knocked it out of the park with a Zen-like response in his captivating French accent: "Yes is the answer. What is the question?"
"That was just the answer I was waiting for!" Julie recalls. "As someone with a hospitality background myself, I knew immediately that he gets it. He understands the essence of customer service."
Before coming to Ecumen, Erwan was an accomplished hotel manager versed in the art of making people feel well taken care of. In 2014, he was named "Manager of the Year" at Hyatt Regency Minneapolis, where he was Assistant Director of Operations. Now he is leading Ecumen's efforts to create a community that breaks senior-living stereotypes by putting hospitality and customer service front and center.
Abiitan is slated to open in November, and Erwan is busy assembling the staff. He's using the same grand organizing principle with employees that he will ask them to use with residents: "It's all about you!" His philosophy: "If you care about employees, good things happen naturally."
Since he started at Abiitan well before the community will open, he is enjoying meeting and learning about all the residents. "This time before we open is a great opportunity to find out what residents like and what they want in the Abiitan community," Erwan says. "Most everything is still moldable, and Ecumen has given me a real sense of empowerment. I feel like I can really bring something to the table. And that's cool."
One thing residents have been clear about: they want a restaurant, not a dining room. So Erwan is working with renowned local restaurant consultant Pat Weber from Mise En Place to develop the dining concept, menus, kitchen and operational team. Weber has extensive experience working with restaurants such as Smack Shack, The Birchwood Café and Birch's on the Lake.
Erwan also is well versed in the food and beverage business. He worked as a steward at Hilton Arc de Triomphe in Paris and managed the Café du Parc French bistro at The Willard Intercontinental Hotel in Washington, DC.
The ability to get to know residents was the major reason for his recent decision to switch from the hotel business to senior living. "I wanted to find something meaningful," he says. "I loved hotel work and learned a lot, but there was never enough time to connect with people. Everything is in-and-out at a hotel. At Abiitan, I get to connect with residents and staff and be part of people's lives. You just can't do that in hotels."
But what you can do, he says, is treat residents as guests, as if they were in a hotel. "Some people think excellent customer service is giving the customer exactly what they want," Erwan says. "There are times when that just isn't possible. But you try never to say 'no.'" The way to please people is by giving them options. You tell them what you can do, not what you can't."
In other words, "yes" is the answer.
Erwan came to the hospitality business in a roundabout way. He grew up in Brittany in the western part of France. In school he had a penchant for organizing and logistics that tracked him on an engineering path. When he graduated college with a degree in industrial engineering, his first love was surfing, not engineering. So he moved to Australia for a job in a food processing plant — strategically located near the ocean.
The work itself was not meaningful, he says, but the surfing was great. Then he moved with the same company to England for a year and to Wisconsin for a year. He met his wife-to-be — a pastry chef — in Wisconsin. Together they moved to Paris, where Erwan decided to change his career path and got an MBA in hospitality management.
In 2005 he took a job at the Hilton Arc de Triomphe in Paris. Meanwhile, he and his wife took a honeymoon around the world. They loved San Diego and decided to move there in 2008, where Erwan worked at the Hyatt Regency Mission Bay. In 2010, they moved to Minneapolis, where he worked at the Hyatt Regency Minneapolis. They now have two children, 6 and 4.
Erwan says he is enjoying all the preparations for the opening of Abiitan in November, which fits well with both his logistical and hospitality skills. As the opening gets closer, Erwan says he is getting great satisfaction from thinking of things that need to be done and just doing them. "We have to keep in mind that this is not a race," he says. "It's a marathon. Come November, we will drink champagne and go with the flow."
And when problems occur and questions arise, "yes" will be the answer.
__
About Abiitan Mill City
Abiitan Mill City, in the heart of Downtown Minneapolis, is a state-of-the-art community for adults 55+. It is designed meet the changing desires of the current generation of baby boomers who are now retiring and want the option of an urban lifestyle.
Abiitan, which will open in November, has all the comforts of apartment living integrated into a walkable urban neighborhood with culture, nature and entertainment. It offers spacious well-appointed apartments and amenities such as executive office suites, heated underground parking, a public café and bistro, a full-service restaurant and bar, a G-Werx Fitness Training Studio open to the public, clubroom and sky deck, concierge services and unparalleled customer service.
Residents will be able to walk to the river, to the Guthrie Theater, Gold Medal Park, the Mill City Farmers Market, the Light Rail and skyway system and the new stadium
The five-story building will house 103 independent living rental units and 48 memory care units. It is bounded by 2nd Street to the south, 3rd Avenue to the west, 5th Avenue to the east and the River West high-rise complex and Mill Place office building to the north. For renderings and detailed information go to abiitan.org.