Smith & Porter, a New American restaurant with a casual atmosphere, is now open in Ecumen's new Abiitan Mill City building at 428 South 2nd St., Minneapolis. Smith & Porter will offer evening dining with contemporary entrées and small plates, vegetarian options, and a full bar with a tailored selection of wines and locally crafted spirits and beers.
Smith & Porter is open for dinner seven days a week, and reservations can be made through OpenTable. The restaurant is two blocks from the Guthrie Theater and the Mill City Museum and across the street from the MacPhail Center for Music.
The Executive Chef is Kai Phanthavong. Phanthavong started his culinary career as a server in his family run restaurant, Pad Thai, on Grand Avenue in Saint Paul and graduated from Le Cordon Blu in 2004. While interning at Zander Café, he quickly became Chef de Cuisine. Phanthavong has since built a robust culinary background, with leadership experience at establishments such as Duplex, Kungnam Resort in Thailand, Masu Sushi & Robata, Tiny Diner, and most recently Libertine.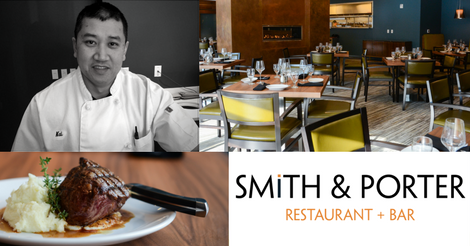 The restaurant concept and menu was developed in consultation with prominent Chef Pat Weber, whose Mise en Place consulting business has worked with top Minneapolis restaurants, including Birchwood Café and Smack Shack.
John Gleason is the Food & Beverage Director at Smith & Porter. Most recently he managed the opening of Giordano's Pizza in Uptown Minneapolis after opening three locations in Chicago.
The General Manager is Nick Patraw, who previously managed Ling and Louie's and Giordano's in the Twin Cities. He also was general manager at CopperWynd Luxury Resort in Scottsdale, AZ.
Smith & Porter's sister concept, the Porter Café, located adjacent to the restaurant, will open in early February, 2017. It will offer the Mill City Neighborhood a breakfast and lunch option, with barista-inspired warm and cold beverages, daily features and specially prepared entrées, along with grab-and-go breakfast and lunch options. The café will be open 7 a.m. to 4 p.m. daily.
Smith & Porter is on Facebook, Instagram and Yelp, and can be found by searching "Smith & Porter Restaurant + Bar." The restaurant's website will soon be live at www.smith-porter.com.