The routine morning meeting of department heads at Ecumen Bethany Community was just wrapping up, and Director of Nursing Deb Buker had one final big announcement: Lori Zastrow has been selected by LeadingAge Minnesota as District C "Caregiver of the Year."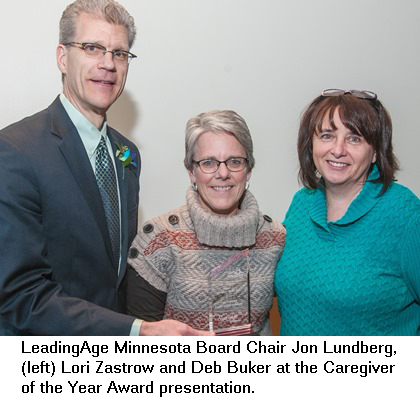 Lori was the most surprised person in the room. She's not a nurse or a nursing assistant. She's a Health Information Coordinator. But, as her colleagues make clear, she is a caregiver of the first order.
The nurses she works with wrote glowing letters of recommendation to LeadingAge Minnesota, detailing all the reasons why she deserves this high honor awarded to "individuals in older adult services who demonstrate exceptional commitment to older adults, and enhance and enrich the quality of life of those in their care." (Lori and five others were selected as regional caregiver award winners out of a field of 50,000 caregivers throughout the state.)
On paper, Lori's job includes clerical functions like taking admissions applications, inputting doctors' orders and coding medical procedures. But her colleagues attest that she elevates this normally behind-the-scenes job to an indispensable front-and-center role. She may not do direct care in the traditional sense, but she keeps the community's caregiving operation organized to a consummate level of detail and precision.
In her nomination letter, Director of Nursing Deb Buker, RN, pointed to all the ways Lori applies her exceptional organizational skills to elevate the quality of care at Ecumen Bethany. She arranges all the in-house appointments for physicians, dentists and lab work. Then she makes sure each resident gets an appointment card with all the details. She notifies staff of the upcoming appointments and follows up to make sure the residents get to and from their appointments.
Additionally, Lori orders all the nursing supplies, making sure that staff have what they need for resident care, and also keeps a close eye on the nursing budget.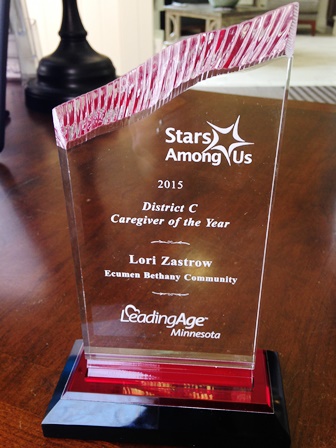 "Through thick and thin," Deb wrote, Lori has always maintained a positive attitude and has set an example of how to be flexible. She takes what life gives and makes the best out of what she is given. Every organization should be as lucky as we are to have someone like Lori."
Christina Nessman, RN, the staff development coordinator, wrote in her nomination letter: "Lori possesses all the qualities of a person that I would love to be someday. She's funny, very smart, on top of EVERYTHING, can prioritize like a mad woman, and does it all with a smile, never showing any frustrations that she might have. Lori is the glue that helps keep the nursing department together."
The expansive nomination letters are peppered with adjectives such as dependable, can-do, efficient, warm, cheerful, patient, kindhearted, tactful, hardworking, calming, positive, loyal and, of course, caring. "She is always willing to help someone out — to make someone's day better even if she will have to work harder," wrote Admissions Nurse Jessica DeZeeuw, RN. "She has a great relationship with all the residents that live here and participates in multiple activities, volunteer work and groups. She is always looking at what will make Bethany better."
Lori has worked at Ecumen Bethany Community for more than 30 years. She started in housekeeping and laundry and moved to roles in support services, the business office and then health information. She had no health information experience when she took the job, but went back to school while working full-time to learn more about the job she already had. She got a degree in medical coding.
Deb says after she made the announcement of the award, Lori came to see her, trying to understand what had just happened. "She said she was just doing her job," Deb recounts. "But she is a person who always goes above and beyond."
Last week, Lori was honored at the Leading Age Minnesota 2015 Institute meeting in Saint Paul, where she received a crystal plaque and an abundance of attention from her colleagues. A party also is being planned at the Ecumen Bethany Community.
"I'm very honored," Lori says. "I feel like a celebrity. They are making me feel important around here."