Zvago Glen Lake Cooperative, a new senior housing community on the north shore of Glen Lake in Minnetonka, has won an Award of Excellence from the Minnesota Chapter of the Commercial Real Estate Development Association. The 54-unit co-op is located at 14301 Stewart Lane.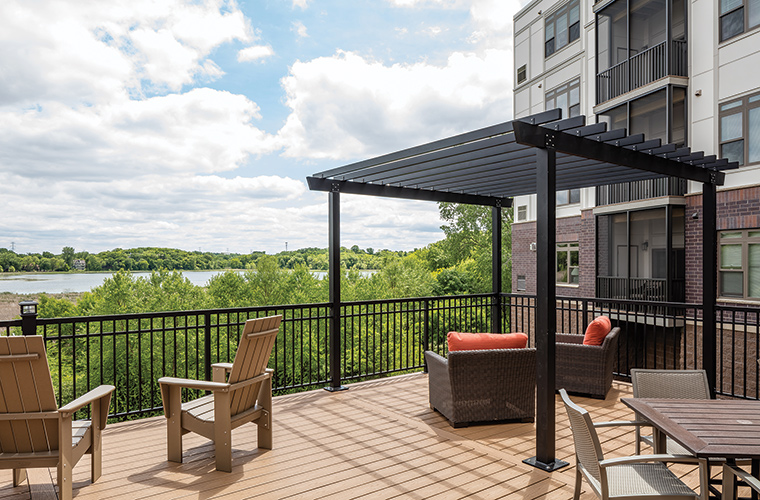 Judges evaluated 53 finalists on project development, function and design, architectural integrity, market feasibility, sustainable attributes and unique project challenges. Zvago Glen Lake was one of 14 winners. The winners are profiled in the October issue of Twin Cities Business magazine.
Zvago Glen Lake, which opened in April 2017, is the first in a series of Zvago cooperatives designed for active adults 62 and older. Zvago is being developed by OneTwoOne Development, a partnership between Ecumen and Lifestyle Communities, a Bloomington-based development company. Similar Zvago co-op communities are now in development – Zvago St. Anthony Park in downtown St. Anthony Park in St. Paul and Zvago Central Village in Apple Valley. Also, a Zvago site in Duluth on Lake Superior is in the planning stages.
Ecumen Chief Development Officer Julie Murray said Zvago Glen Lake was especially designed for "vibrant people who are done with single family homes and don't want to mow, do the yard and snow-blow – but who want to have fun and freedom and flexibility to travel." Also, she said this new breed of seniors wants "walkable communities so they can walk to the grocery store, the coffee shop, the liquor store and the dry cleaner." Zvago is the Italian word for "fun, leisure and recreation."
Organizations working on the project included: Frana Companies, the contractor; KaasWilson Architects; and BDH & Young, interior designers.
Senior cooperatives are communities where residents buy shares of the corporation that owns the building — an ownership structure that offers financial advantages similar to traditional home ownership, along with lower costs of entry than many condominiums or townhomes. Plus, co-op owners have a strong say in shaping their community and how it operates.
For more information on Zvago Cooperatives, visit the website or call 952-452-8875.