Zvago Glen Lake Owners Toast Their New Homes at Groundbreaking Ceremony
The rain stopped, the sun came out and a festive group of homeowners gathered May 25 on the north shore of Glen Lake in Minnetonka for a celebratory toast on the spot where their new homes will be.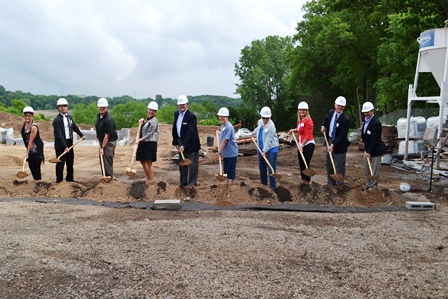 The rain stopped, the sun came out and a festive group of homeowners gathered May 25 on the north shore of Glen Lake in Minnetonka for a celebratory toast on the spot where their new homes will be.
Zvago Glen Lake, at 14301 Stewart Lane, is a 54-unit OneTwoOne Development cooperative expected to open in the spring of 2017. Ecumen and Lifestyle Communities, LLC, created OneTwoOne Development to offer consumer-focused boutique cooperatives for adults with active lifestyles. Two similar cooperative communities are now in development — Zvago St. Anthony Park in downtown St. Anthony Park in St. Paul and Zvago Central Village in Apple Valley.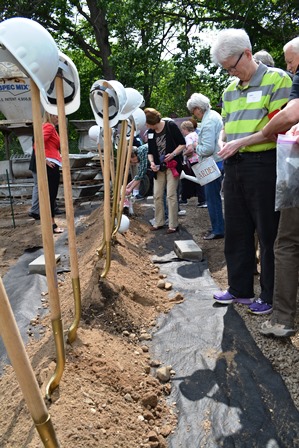 For the groundbreaking, Zvago Glen Lake cooperative members brought small bags of soil from their current homes to mix with soil at the construction site in a melding ceremony conducted by Tim Nichols, the owner of Lifestyle Communities, a Bloomington-based development company working with Ecumen on the project.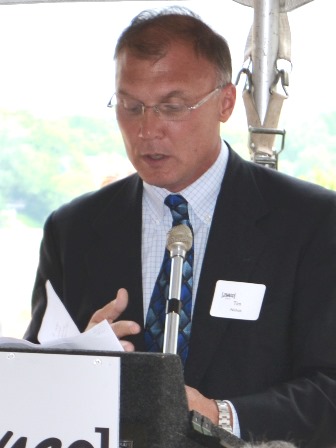 "Welcome to another chapter in a very rich life," Nichols said. "Rather than leave the past behind, we ask you to bring the past to this new community. With the soil you bring today, you all will make a collective addition to that book of life."
Joining the cooperative members for the ceremony were the Zvago staff and representatives from Ecumen, along with those organizations working on the project: Frana Companies, the contractor; KaasWilson Architects, BDH & Young, interior designers; Gray Plant Mooty, attorneys; Doughtery Mortgage; Housing and Urban Development (HUD); and the City of Minnetonka.
Minnetonka City Councilman Dick Allendorf congratulated the cooperative members on their future homes. Asking for a show of hands, Allendorf determined that about half the group currently does not live in Minnetonka. He welcomed "our new citizens" and commended current residents on their choice to live on Glen Lake.
Julie Murray, Ecumen Chief Business Development Officer and Senior Vice President for Sales & Marketing, characterized Zvago Glen Lake as "lakeside living in the heart of everything — without the worries of upkeep."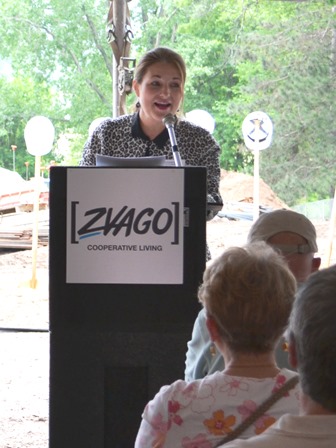 "Zvago Glen Lake is our first owner-occupied development for those 62+ when they're ready to give up home maintenance," Murray said. "It answers the question for many of 'what's next?' Today's retirees are not retiring. They are living life to the fullest."
Murray explained that the name and concept for Zvago is based on the Italian word for "fun, leisure and recreation." She said the Glen Lake site was carefully selected to appeal to those who want a healthy, active, fun lifestyle.
"For our Zvago cooperatives, we chose walkable, amenity-rich neighborhoods where we would want to live, and that's one of the great things about Zvago Glen Lake," Murray said. "It's walkable and close to everything. Just look around. There are trails, parks, the coffee shop, liquor store, restaurants and the grocery store just across the street. What more could you need? Right now, we are also developing other Zvago communities in the St. Anthony Park neighborhood of St. Paul and the Central Village area of Apple Valley because we think this is how people want to live."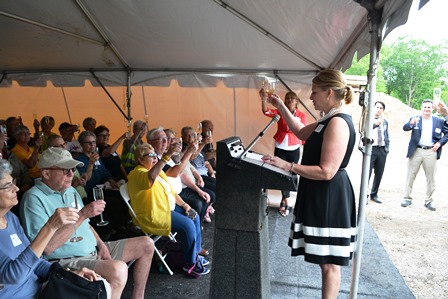 Following speeches and the dirt-turning and soil melding ceremonies, Ecumen Senior Regional Director of Housing Pamela Klingfus, led a champagne toast. "Today, we have officially broken ground for what will be a lovely new building," she said. "Those of you who will be living here at Zvago Glen Lake will be doing something far more important. You will be bringing this land and this building to life. You will be creating a new community — which will transcend the bricks and mortar. Each of you will be bringing a lifetime of experience to your new home and your new neighbors. Together, you will live on this beautiful lake, creating a new chapter of your lives. You will break new ground every day. Let's toast the enduring Zvago Glen Lake community that is soon to be created. To new memories. New friends. New adventures. To a new home full of fun and happiness. Cheers!"
—
For more information on Zvago Glen Lake:
For more information call 952-679-8715 or click here to contact the sales staff online.
The Zvago Glen Lake sales office is at 14446 Excelsior Boulevard in Minnetonka, next to Caribou Coffee. It is open from 9 a.m. to 5 p.m. Monday through Friday and by appointment.
Senior cooperatives are communities where residents buy shares of the corporation that owns the building — an ownership structure that offers financial advantages similar to traditional home ownership, along with lower costs of entry than many condominiums or townhomes. Plus, cooperative owners have a strong say in shaping their community and how it operates.
The Zvago Staff