Zvago Glen Lake Named Among Finance & Commerce's Top Projects of 2017
Finance & Commerce has named Zvago Glen Lake Cooperative in Minnetonka as a Top Project of 2017.
Finance & Commerce has named Zvago Glen Lake Cooperative in Minnetonka as a Top Project of 2017. The new senior housing community on the north shore of Glen Lake in Minnetonka opened in April 2017.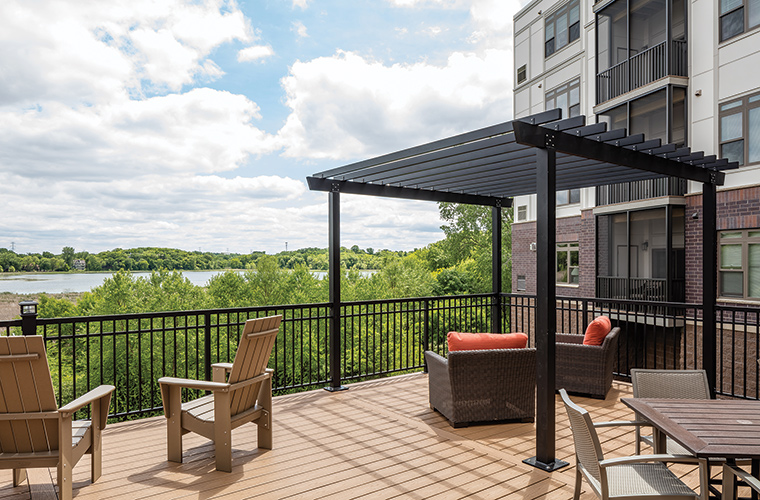 The 54-unit co-op at 14301 Stewart Lane was especially designed for today's new breed of older adults who want active lifestyles in vibrant, walkable communities.
Recently, Zvago Glen Lake also received the Award of Excellence from the Minnesota Chapter of the Commercial Real Estate Development Association.
Zvago Glen Lake is the first in a series of cooperative communities being developed by OneTwoOne Development, a partnership between Ecumen and Lifestyle Communities, a Bloomington-based development company. Also now under construction are Zvago St. Anthony Park in downtown St. Anthony Park in St. Paul and Zvago Central Village in Apple Valley. Plans are underway to build Zvago co-ops on Lake Superior in Duluth and in Stillwater.
For the Finance & Commerce designation, a panel of judges looked at the degree of difficulty, creativity in design, innovative construction techniques, cooperation among contractors and management, and sustainability efforts. The projects will be featured in a magazine and in a series of stories and photos in the Finance & Commerce daily newspaper and website starting in July. The people and companies behind the projects also will be honored at a July 26 event at the Nicollet Island Pavilion. Go here to see the complete list of Top Projects.
For more information on Zvago Cooperatives, visit the website or call 952-206-2006.
Senior cooperatives are communities where residents buy shares of the corporation that owns the building — an ownership structure that offers financial advantages similar to traditional home ownership, along with lower costs of entry than many condominiums or townhomes. Plus, co-op owners have a strong say in shaping their community and how it operates.