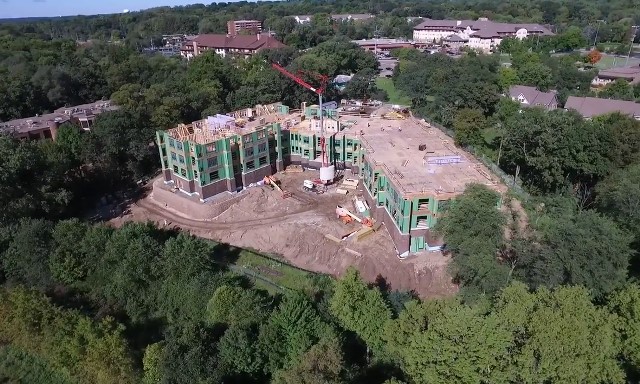 Zvago Glen Lake Cooperative, a new senior housing community on the north shore of Glen Lake in Minnetonka, is holding an open house this Saturday, October 15, from 10 a.m. to 12 p.m., at its showroom and sales office at 14446 Excelsior Boulevard in Minnetonka, next to Caribou Coffee.
Construction on the 54-unit co-op is well underway and the opening is expected in the spring of 2017. The building is located at 14301 Stewart Lane in Minnetonka.
"We've had exceptional interest in Zvago Glen Lake and are now 80 percent presold," said Julie Murray, Ecumen Chief Business Development Officer and SVP of Sales and Marketing. "One of the great things about this community is that it is walkable and close to everything — entertainment, dining, shopping, golf courses and outdoor recreation. It's in a beautiful, mature neighborhood with woods and in easy walking distance to nearby businesses, including a grocery store just across the street."
Senior cooperatives are communities where residents buy shares of the corporation that owns the building — an ownership structure that offers financial advantages similar to traditional home ownership, along with lower costs of entry than many condominiums or townhomes. Plus, co-op owners have a strong say in shaping their community and how it operates.
Zvago is being developed by OneTwoOne Development, a partnership between Ecumen and Lifestyle Communities, a Bloomington-based development company. This is Ecumen's first senior cooperative project and is being marketed to active adults 62 and older. Two similar co-op communities are now in development — Zvago St. Anthony Park in downtown St. Anthony Park in St. Paul and Zvago Central Village in Apple Valley.
For more information call 952-679-8715 or click here to contact the sales staff online. The sales office is open from 9 a.m. to 5 p.m. Monday through Friday and by appointment.