Zvago Central Village Owners Toast Their New Homes at Soil-Melding Ceremony
Zvago Central Village owners celebrate the spot where their new homes will be built.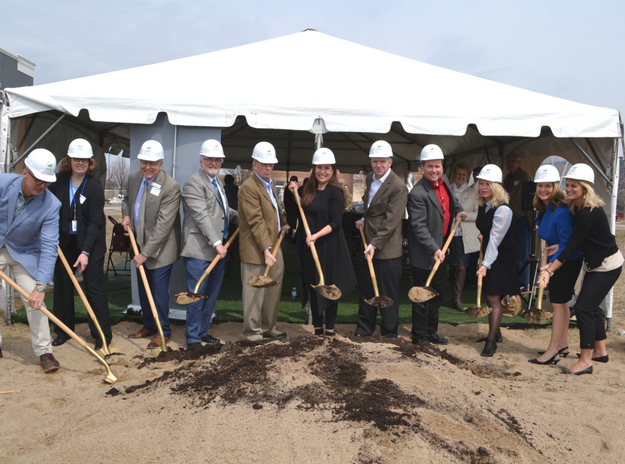 Apple Valley Mayor Mary Hamann-Roland (pictured above center) and other city official joined the prospective owners of Zvago Central Village Cooperative on April 24, 2018, for a soil-melding ceremony and celebratory toast on the spot where their new homes will be.
"This is an auspicious day," the mayor said, praising all the work to make the development happen. "Zvago Central Village will be the centerpiece of the village area. Central Village is the core of Apple Valley, and Apple Valley is healthy to the core."
The construction site, at 7070 153rd Street West in Apple Valley, will become a 58-unit OneTwoOne Development cooperative expected to open in the spring of 2019. Ecumen and Lifestyle Communities, LLC, created OneTwoOne Development to offer consumer-focused boutique cooperatives for adults 62+. The name and concept for Zvago is based on the Italian word for fun, leisure and recreation.
"This is a community for those who want a healthy, active lifestyle," said Dena Meyer, Ecumen Vice President of Sales/Marketing & Client Relations. "Look around you, isn't this the perfect location? We actively search for locations in walkable amenity rich neighborhoods. One of the great things about Zvago Central Village is that it is walkable and close to everything — entertainment, dining, shopping, golf courses, parks, and mass transit. As you can see, it's in the heart of Apple Valley and is in easy walking distance to nearby businesses."
For the ceremony, Zvago Central Village cooperative members brought small bags of soil from their current homes to mix with soil at the construction site in a melding ceremony conducted by Tim Nichols, the owner of Lifestyle Communities, a Bloomington-based development company partnering with Ecumen on the project.
"Welcome to another chapter in a very rich life," Nichols said. "You bring soil today as a symbolic memory of what you have experienced in life. Rather than leave the past behind, we ask you to bring the past to this new community. With the soil you bring forward today, you all will make a collective addition to that book of life."
Joining the cooperative members for the ceremony were the Zvago staff and representatives from Ecumen, along with those organizations working on the project: Frana Companies, the contractor; KaasWilson Architects, BDH & Young, interior designers; Gray Plant Mooty, attorneys; Doughtery Mortgage; the City of Apple Valley City Council, Planning Commission; Mayor Hamann-Roland; and the Apple Valley Chamber of Commerce.
Ed Kearney, President of the Apple Valley Chamber of Commerce, praised the collaboration that made Zvago Central Village possible. "It takes vision and planning to make this happen. It doesn't just happen."
Julie Murray, Ecumen Senior Vice President of Sales & Marketing and Chief Development Officer, led a champagne toast: "Together, you will live in this beautiful community, creating a new chapter of your lives. You will break new ground every day. To new memories. New friends. New adventures. To a new home full of fun and happiness. Cheers!"
–
For more information on Zvago Central Village: Contact the Zvago Central Village sales office at 952-683-9464, or click here to request more information online.
The Zvago Central Village sales office is at 15322 Galaxie Avenue, Suite #212, in Apple Valley.
Senior cooperatives are communities where residents buy shares of the corporation that owns the building — an ownership structure that offers financial advantages similar to traditional home ownership, along with lower costs of entry than many condominiums or townhomes. Plus, cooperative owners have a strong say in shaping their community and how it operates.
Ecumen also is developing two similar cooperative communities— Zvago St. Anthony Park in downtown St. Anthony Park in St. Paul is now under construction and plans are underway to build a Zvago co-op on Lake Superior in Duluth. Zvago Glen Lake on the north shore of Glen Lake in Minnetonka has been open since April 2017.