You've Got To Have Heart To Do This Job: Honoring Ecumen's Nursing Assistants
It's an intensely challenging job. It's a deeply rewarding job. It's an absolutely critical job that not just anyone can do. But it does not get a lot of recognition.
The Nursing Assistants who take care of the frail elderly are a special breed who give compassionate care all day long to people who are at their most vulnerable.
This week is National Nursing Assistants Week, and Ecumen honors its 1,800 Nursing Assistants for their dedicated care and commitment. (Nursing Assistant is a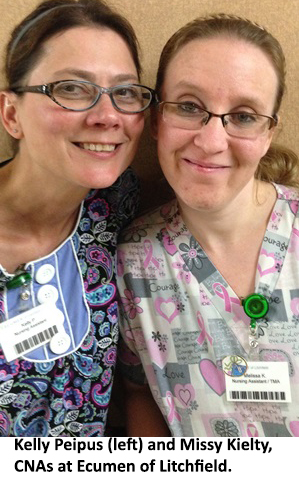 general job category with many more specific job titles such as Certified Nursing Assistants (CNA), Resident Assistants, Home Health Assistants, Personal Care Attendants, Adult Day Services Assistants and Trained Medical Assistants.)
"This is an extremely important job," says Anne Diekmann, Director of Nursing at Ecumen of Litchfield. "It is a noble calling and a career to be proud of." Nursing Assistants do tasks like making sure residents get their meals, medication, therapy and personal care when they are supposed to, and they are always on call for any immediate needs residents have.
Diekmann says the 72 Nursing Assistants she supervises "are the eyes and ears of the Nursing Department. They are the people closest to the residents every day. They are the first line of everything. They notice when things aren't right. They are keyed into every little detail. Without them, the nurses can't do their jobs."
Three Nursing Assistants at Ecumen of Litchfield gathered this week to talk about their jobs.
Jody Dilley, a Certified Nursing Assistant (CNA) for eight years, says, "It's rewarding to help someone who cannot help themselves without expecting something in return." She chose this career after taking care of her own mother, who was dying of cancer. "I knew I had found my calling," she said.
And many Nursing Assistants refer to their jobs as a "calling." Kelly Peipus has been a CNA for 30 years at Ecumen of Litchfield. She describes herself as an easy-going and patient person who finds that caregiving "just comes naturally."
Missy Kielty, a CNA for 13 years, says she feels like she is "making a difference" as a caregiver. "I love interacting with the residents, hearing their stories and experiences," she says. "The residents thank us all the time for what we do. They apologize for needing help, but we just tell them that's exactly what we are here for."
To be a Nursing Assistant, the group agreed, you need to be patient, sympathetic, compassionate and caring. And Anne Diekmann added a fifth qualification: integrity. "Nursing Assistants must be unconditionally trustworthy," she says.
To honor the Nursing Assistants she supervises, Diekmann handed out "Survival Kits" with the following items and explanations:
Lifesavers: Because you are a REAL lifesaver!
Tissues: For those times you have to dry tears, even your own.
Snickers: To remind you that laughter really is the best medicine.
Sucker: To help you lick every problem.
Starburst Candy: For those times when you need a burst of energy.
Laffy Taffy: To remind you to laugh at times when you fell like crying.
Stick of gum: To help you stick with it and accomplish anything.
Mint: Because your compassion is worth a mint!
Rubber Band: For when you need to stretch beyond your limits.
And in big type at the end: NURSING ASSISTANTS ARE ALL HEART.
__
Ecumen thanks and honors its Nursing Assistants — and all Nursing Assistants — for your compassionate care and selfless service to others.