Well-Traveled Ecumen Lakeshore Residents Jay Amato and Pat Richard-Amato Love Duluth as Their Retirement Haven
It's been a long and circuitous route that brought Jay Amato and Pat Richard-Amato to Ecumen Lakeshore in Duluth. But both agree that coming here was one of the best choices they ever made.
By Roxanne Sternberg
Residence Director
The Crest at Ecumen Lakeshore

It's been a long and circuitous route that brought Jay Amato and Pat Richard-Amato to Ecumen Lakeshore in Duluth. But both agree that coming here was one of the best choices they ever made.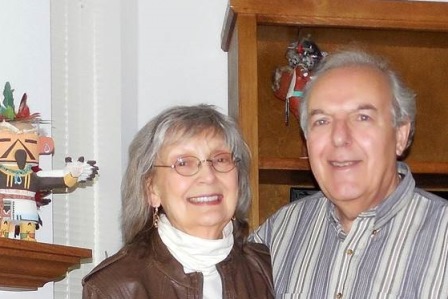 Jay grew up in New York City but has lived elsewhere for so long that his accent is hard to detect, though Pat jokingly claims the Brooklynese reemerges whenever he is cut off in traffic. He earned a doctorate in physics at Yale University and came west to do research in nuclear physics, first at the Los Alamos National Laboratory in New Mexico and later at Oregon State University. He made the fortuitous choice to take some computer science courses at the University of New Mexico in Albuquerque, because that's where he met Pat and reconsidered his status as a confirmed bachelor.
Pat grew up in Minnesota and graduated from UMD with a teaching career in mind. She first went to Tucson, Arizona, where the prospect of lounging around an outdoor swimming pool in December seemed like a fantasy come true. Her first marriage brought her to the Denver area and a position in the Jefferson County school system teaching English to the growing body of Southeast Asian refugees for whom it was a second language. But after her first marriage broke up, she decided she needed a change and opted to work on a Ph.D. in applied linguistics at the University of New Mexico.
A chance encounter at a coffee shop near the campus soon blossomed into romance. They discovered that although Jay had concentrated on science and Pat on the humanities, they nevertheless had a great deal in common. Soon they eloped to historic Santa Fe to which they frequently return whenever they get a yearning to revisit the place that holds so many wonderful memories. Pat says she definitely made a "better choice the second time around." They both love everything southwest, including the spicy Mexican food, the relaxed blending of cultures, and the adobe architecture. A 30-year collection of southwest artwork attests to their fascination and adorns their apartment at Lakeshore.
After completing their graduate work, they began a 16-year sojourn in the Los Angeles area. Pat became a professor at California State University, Los Angeles, where she initiated a graduate program in Teaching English as a Second Language (TESL). She also began a long career as a textbook writer and was a co-recipient of the Mildenberger Medal in 1983 from the Modern Language Association of America for "an outstanding research publication in teaching foreign languages and literatures." Her presentations over the years have taken her to several countries abroad, including countries in South America. Her latest books are available at the UMD library and are still used at several universities across the U.S.
Jay switched careers to software engineering at Hughes Aircraft in El Segundo, California, which later became part of Raytheon Electronics. He wrote computer code and integrated software components for airborne radar systems. He still gets pleasure from looking up at a passing plane and thinking, "There goes some of my code."
Although they both enjoyed their jobs, neither Pat nor Jay cared much for the congestion and smog of Los Angeles. After Jay retired they moved back to the Rocky Mountain region, this time to Woodland Park, Colorado, a small town in the mountains above Colorado Springs. They enjoyed their ten years there, but eventually decided they wanted to be closer to family. Since Pat has a sister and brother-in-law in Grand Marais, and a nephew right here in Duluth, they opted to come to Lakeshore. That was almost four years ago, and both regard it as a decision they've never regretted.
They both think Duluth is the ideal size, big enough to have access to everything they need, yet small enough to keep traffic and congestion manageable. The city has been a pleasant surprise in its wealth of cultural offerings and in the lively feel of a university town. And they love living next to Lake Superior, with its magnificent views and the moderating effect it has on the climate.
Lakeshore living has held many attractions for them. They have developed numerous wonderful friendships here and enjoy the coffee and conversation sessions as well as the widely celebrated tenant socials. They both enjoy reading and faithfully attend the monthly meetings of the book club for some stimulating discussions. Last year they began taking courses at the University for Seniors at UMD and they much enjoy feeling like students again. Pat exercises daily by walking the halls, while Jay usually prefers to use the machines in the exercise room.
After retirement Jay discovered a previously undetected passion for opera, which Pat teasingly attributes to his "Italian genes." They patronize the Lyric Opera of the North here in Duluth as well as the Minnesota Opera in St. Paul. Jay particularly enjoys the Metropolitan Opera hi-def broadcasts into the local movie theatre here in Duluth. As an outgrowth of an interest shown by book club members, every three months he shares one of his prized opera DVDs in the chapel, followed by a little wine and a snack — which was chronicled in this blog post last summer.
In addition to freely giving their time for events like this, they are also generous financial donors to the Lakeshore community, including the Ecumen Benevolence Fund.
Pat and Jay often wonder why they didn't come to the Crest earlier. They never fail to importune friends and relatives to consider the benefits of Lakeshore living.