By Sandy Lia, Ecumen Detroit Lakes Fund Development Director
Ecumen Detroit Lakes recently installed a warm water aquatic pool that is becoming a big hit with area residents. The pool is part of a new wellness center built to serve the Becker County area.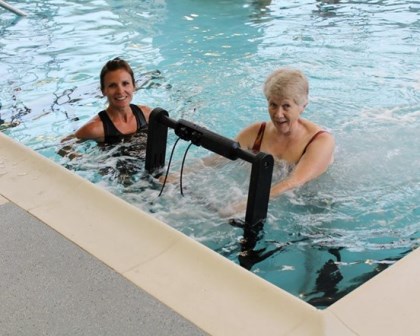 In the photo Instructor Amy Nordby (LEFT) works with Sue Morley, who is on the treadmill. The pool is four-feet deep and the temperature is about 91 degrees.
Sue says she loves walking on the treadmill in the warm water pool and feels great during her workouts and after. She says her muscles are relaxed and she feels much more flexible and less stressed.
Amy says participants definitely feel resistance and get a good workout during a one-hour session. This type of workout, she says, is great for sore muscles and for strengthening. Water resistance can be increased with the pool jets.
Amy works for Live 2 B Healthy, a fitness company that offers customized programs and trainers to senior communities. She holds classes Monday, Wednesday and Friday from 11 a.m. until noon. Complimentary sessions are available and workout sessions can be purchased at reasonable rates using a punch card system. To learn more contact Sandy Lia at 218-844-8340.
Ecumen Detroit Lakes is located at 1415 Madison Avenue in Detroit Lakes. For more information go to www.ecumendetroitlakes.org.