The Vital Aging Network, a nonprofit helping people 50+ live connected and vital lives, will host a Mayday Celebration May 1, 2014, to welcome spring with cool jazz, socializing and a silent auction.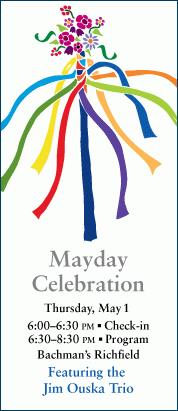 The event starts at 6 p.m.at Bachman's Heritage Room at 6010 Lyndale Avenue South in Richfield. The Jim Ouska Trio will provide music.
Tickets are $15 per person. You can register online here, or go to vital-aging-network.org for more information.
The Vital Aging Network's mission is to promote self-determination, civic engagement, and personal growth for people as they age — through education, leadership development and opportunities for connection.