Veronica Olsen: Being a Nurse Was Her Childhood Dream
Can you remember what you wanted to do with your life at the age of 15? And are you currently doing it? Veronica Olsen is.
It's National Nurse's Week, a time set aside to pay special tribute to our nurses on the front lines of health care every day. Ecumen employs more than 500 nurses and 1,800 nursing assistants, who provide quality care to our residents in our nursing homes, assisted living communities and through home care and hospice services. They make lives better in innumerable ways, and we can never thank them enough for their compassionate, caring, skillful work. Here's a story of one Ecumen nurse, who is deeply committed to her profession and to making lives better every day.
By Amy Williams
Can you remember what you wanted to do with your life at the age of 15? And are you currently doing it? Veronica Olsen is.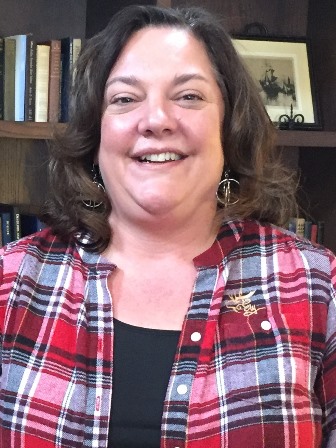 Ecumen Lakeshore's Clinical Director was in ninth grade when she first knew she wanted to spend her career working in senior care and began working as a nursing assistant in her hometown of Ely, Minn. She has dedicated her life to caring for seniors ever since.
Veronica was strongly influenced by her social worker mother whose work and compassion drew Veronica to nursing. Additionally, her grandmother always wanted to be a nurse, "but she didn't have enough money for a watch, so she couldn't get into nursing school," Veronica recalls. Inspired by these two women, Veronica graduated from nursing school and fell in love with her first job out of college — at Lakeshore.
Twenty-eight years later, Veronica says her work has "been very fun" as it has changed and evolved. "I've had incredible career opportunities all along," she says. "Ecumen is forward-moving and gives communities like Lakeshore opportunities to try new ideas. It has given me the chance to solve problems creatively and independently, with support from our team at Lakeshore and from the Ecumen Home Office." She loves Lakeshore's campus and the opportunity to build deep relationships with residents, getting to know their unique stories that have shaped them into who they are.
Veronica has seen many changes to Lakeshore's campus during her work — most notably the construction of the beautiful buildings that now exist on the shores of Lake Superior. Consistent throughout her tenure has been her generosity to Lakeshore. "I love my job and I want to give back, not only for our residents, but also for the staff I work with. I care about my coworkers. They are my family and a big part of what makes Lakeshore such a great place to work."
Veronica recalls her grandmother's generosity in shaping her own view of giving. "She never did become a nurse as she had dreamed. She owned a grocery store and just worked really hard. But she was incredibly generous and taught me about giving back to your community." For Veronica, that community is Lakeshore.
Talking about this community with Veronica, you can see her passion for excellence in senior care. She animatedly talks about her firm belief in the power of living in a campus setting like Lakeshore. "Isolation is such a huge problem, and a place like Lakeshore can prevent that loneliness and its accompanying issues," she says.
She also actively works to draw a new generation of nurses out of hospitals and into community settings. "You can make so much more of a difference and our residents have so much to share," she says. "You always get so much out of those relationships."
Veronica is the nurse you want caring for you or overseeing the care of a loved one. That makes her amazing support so much more extraordinary.
"It's a good feeling to give," she says. "I've been fortunate. And knowing that I can make an even greater impact is incredibly satisfying."