An Unshaggy Dog Story Unfolds at Ecumen Lakeview Commons
Fred had hit bottom. He was homeless and malnourished, living in a godforsaken shelter somewhere in Arkansas. His body was covered in sores, and his teeth were falling out. But even in this depth of despair, there was something about his spirit.
You could look through his eyes right into his beautiful soul. And that's what saved his life. A stranger saw who he was on the inside and rescued him from certain death.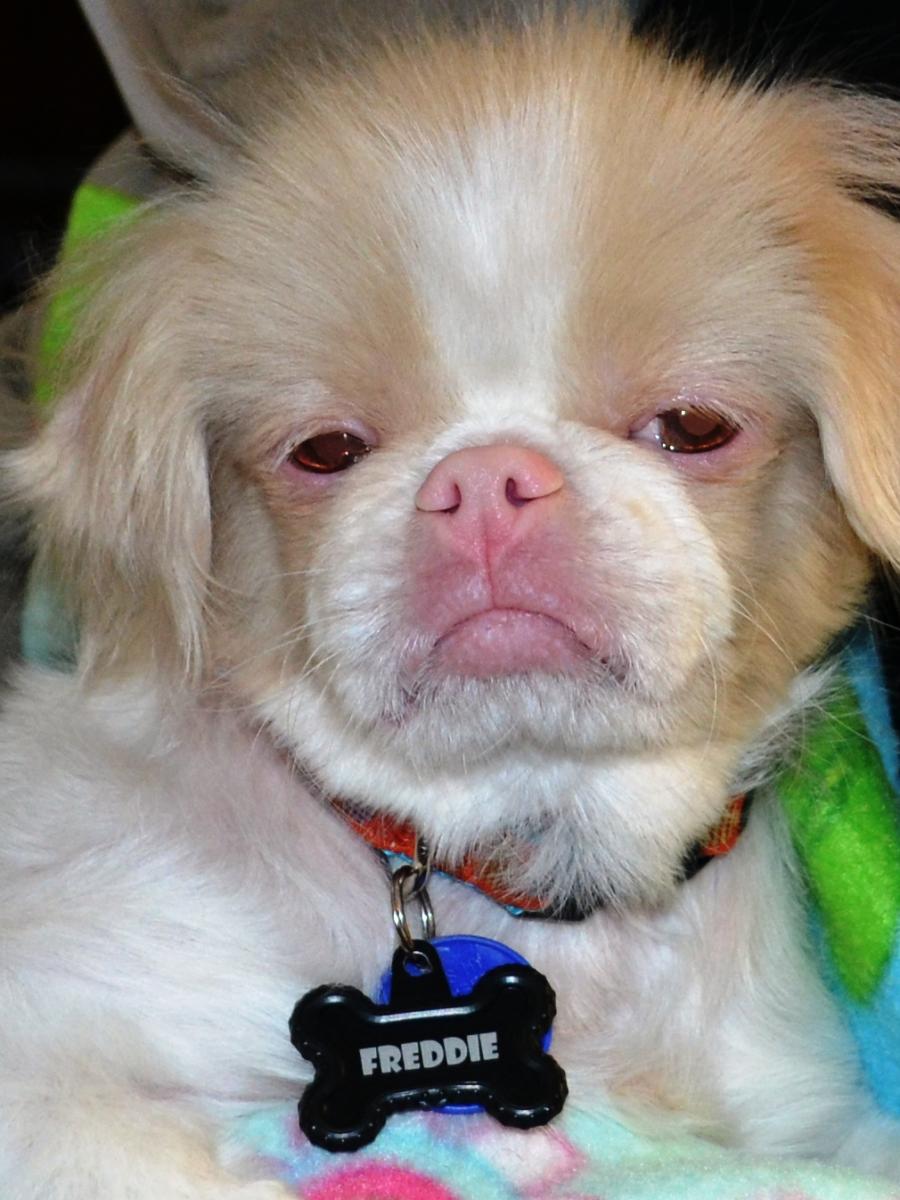 Now things are getting back to normal. Fred came to Minnesota and found a home with a woman who loves him dearly, and he is ready to give back to others who need support.
Today he went to visit a resident at Ecumen Lakeview Commons in Maplewood, Minn., who is in the last days of her life. He crawled up on the bed and let her know he was there for her.
Fred is an 11-pound, 8-year-old hairy albino Japanese Chin — a breed of dog cultivated by Japanese and Chinese nobility — specifically to live in the lap of luxury. He's come a long way on his three-month journey from misery to bliss, and now has his own page on Facebook: [Furless Fred a Happy Tail].
Back in October, a rescuer from the Midwest Animal Rescue & Services had gone to a high-kill shelter in Arkansas to pick up a load of larger dogs and bring them back to Minnesota for adoption. As she was leaving, she saw Fred. He was wretched. He had mange, a yeast infection, a bacterial infection, an ear infection and bad teeth.
But that face… She just couldn't leave him behind.
When Fred got to Minnesota, he settled into a foster home and was put up for adoption. The Facebook page was created to raise money for his considerable medical bills and to find him a home. He got plenty of attention, and people started donating doggie clothes to protect his ravaged body from the Minnesota cold. Fred, who by now was nicknamed "Furless Fred," loved his new wardrobe and shamelessly mugged for the camera on his Facebook page.
Glory Hill, the housing manager at Ecumen Lakeview Commons, heard about him and went to take an in-person look. "When I first saw him, I fell in love with his face," she recalls. At that point, he was a hairless, disease-ridden mess. But there was something about him.
That face. "I just couldn't get him out of my mind," Glory says. She didn't adopt him on the spot. She wanted to think about it. And it was all she could think about until she went back and signed the papers.
Now Fred comes to work with Glory and has a good job at the Ecumen assisted living and memory care community. He's totally off the meds, and his hair is growing back nicely— except on his tail.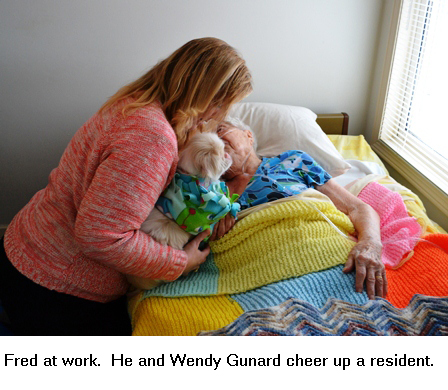 Fred's main job is to make people happy, and he is exceptionally good at it. He's a champion snuggler. Residents often pop into Glory's office and say things like: "If it's OK, I'm going to watch Fred today while you're at lunch."
Chins are bred to be easy-going companion dogs. Glory speculates that Fred was somebody's very special dog before he fell on hard times. He definitely has companionship down. Only a truly evil person could walk away and leave him, so maybe he was stolen and then abandoned.
Whatever happened in the past, it's surely behind him. Everybody is his friend, and nothing much upsets him. He enjoys going out in the lobby and sitting with all the folks who want to hold him. When Glory picks up his special blanket — the one he was wrapped in after his rescue — he knows it's time to go to work.
But there is one little complication — another dog at Ecumen Lakeview Commons, named Bauer, who was here first.
Bauer, also a rescue dog, is a Border Collie-Australian Shepard mix, who belongs to Jen Rassmussen, the recreation therapy director. Bauer has his routine of walking around to visit his special friends. Maybe he'll crawl in bed with someone and take a nap, or maybe he'll chase a ball if somebody wants to throw it.
Bauer is a herding dog with lots of energy. Sometimes too much. Today he got kicked out of exercise class for being too rowdy. Whatever. He just went to memory care, where the recreational therapy group was falling asleep. Bauer lit up the room.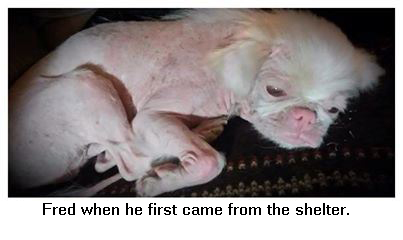 So Bauer and Fred are slowly checking each other out, literally circling each other when they are together. The staff is committed to making sure that both of these guys fit in.
They both have defined responsibilities, commensurate with their skills. Fred is an accomplished lap dog with superior cuddling ability, and Bauer is an expert on fun with an exceptional talent for frolicking.
It works: two rescue dogs, pleased to be working here at Ecumen Lakeview Commons, taking care of their people.