Two Ecumen leaders have been recognized by LeadingAge Minnesota as "innovative and influential leaders who are charting the course for the next wave of older adult services that will empower Minnesotans to age well and live fully."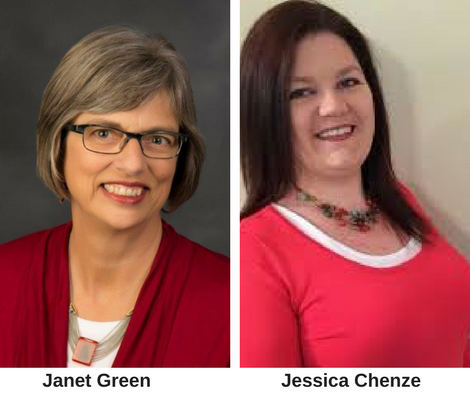 In its "50 for the Next 50" list released Sept. 21, 2017, LeadingAge Minnesota honored Janet Green, an Ecumen Regional Director, and Jessica Chenze, Director of Nursing Services at Ecumen-managed Pelican Valley Senior Living in Pelican Rapids, Minn.
"50 for the Next 50 are pioneers, challenging the status quo to transform and enhance the experience of aging," said Gayle Kvenvold, President and CEO, LeadingAge Minnesota. "These leaders are making forward-looking innovations in service delivery, elevating the profession of caregiving and best preparing Minnesota for the future needs of its aging population. We are energized by what lies ahead with the mix of these experienced and next generation leaders at the helm."
The 50 leaders represent a broad array of professionals who work on behalf of older adults in independent senior living, assisted living, adult day services, home care and skilled nursing as well as organizations that support long term services and support throughout Minnesota.
Green has been with Ecumen more than 20 years, most of that time as Executive Director of Ecumen Detroit Lakes. She recently led its transformation to a state-of-the-art community health care center cited as an innovative national model for rural healthcare delivery – integrating technology, socialization, fitness, nutrition and health care to help keep seniors healthy and independent.
In its recognition, LeadingAge Minnesota said: "Janet has exuded innovation, resident-centered care and quality throughout her career. She is an active member of workforce initiatives throughout the state and on a national level, and is often the only voice of health care at the table. Janet actively pursues innovation in technology work and today is helping define the next generation of service delivery."
Chenze joined Pelican Valley Senior Living in 2015. In her role, she oversees all nursing-related services and nursing department employees for Riverfront Manor and Riverfront on Main. She supervises approximately 35 Resident Assistants, ensuring they are well trained and able to provide quality care and services to the assisted living tenants.
LeadingAge Minnesota said: "Jessica leads by example, encouraging and motivating staff to embrace change – no matter how unclear or unpredictable it is. She continually seeks out new ways to make the lives of residents and staff better. Jessica's approachable and fair management style has led to a better trained and more engaged staff, as well as higher quality care and more satisfied residents."
The LeadingAge Minnesota brochure recognizing the 50 leaders is at this link.
The 50 for Next 50 were recognized as part of LeadingAge Minnesota's 50th Anniversary. Founded in 1967, LeadingAge Minnesota is the state's largest association of organizations serving older adults. Together with more than 50,000 caregivers, our members provide quality, compassionate services and support to nearly 70,000 older adults every day in all the places they call home.