Two employees of Ecumen communities and a memory care resident were recently honored at LeadingAge Minnesota's "Stars Among Us" awards ceremony in St. Paul.
Mary White, a Resident Assistant in Memory Care at Ecumen of Litchfield, was named a District Caregiver of the Year.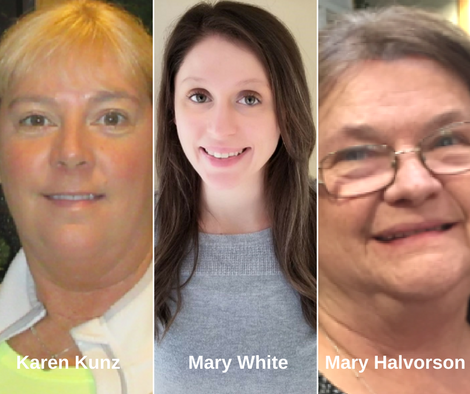 Karen Kunz, Staffing Specialist at Grand Village in Grand Rapids, was named a District Caregiver of the Year.
The District Caregiver of the Year Award honors individuals in older adult services who demonstrate exceptional commitment to older adults, and enhance and enrich the quality of life of those in their care. "The highest honor bestowed is to the Caregiver – for it is the caregiver who is at the center of all we do to serve older adults," said LeadingAge Minnesota in announcing the awards.
Mary Halvorson, a memory care resident at Pelican Valley Senior Living in Pelican Rapids, received a "Spirit of Aging" award which honors older adults who exemplify the concept of positive and active aging, living life in ways that defy negative stereotypes of aging, and make a positive difference in the lives of other seniors.
The awards were presented February 7, 2018, at the LeadingAge Minnesota Institute, the state's largest and most comprehensive aging services conference. Nearly 4,000 professionals in all aspects of older adult services attend the annual three-day event to learn about new and innovative programs, share best practices and network with their peers.
Below are excerpts from the award nominations of each of the winners:
Mary White: "Mary is a stellar employee and caregiver. In fact, caregiving is her life. There are times when Mary may be exhausted from working in memory care, raising a family and going to school to become an RN, but you'll never know it. She's always smiling and easy to work with. She helps residents feel at home living in memory care; she supports and comforts family members losing their loved ones to dementia; and she is an inspiring peer mentor for her co-workers."
Karen Kunz: "Karen truly cares about people. She cares about the team she's responsible for scheduling. She cares about the residents. She cares about the facility and how important financial stewardship is. 'Strength' is another word that comes to mind. No matter what the situation, Karen has the ability to stay calm and press on. Karen is a creative thinker – always coming up with new ideas and better ways to approach things. She truly goes beyond expectations.
Mary Halvorson: "Spirited is the key word to describe Mary's personality. She is young, active, fun, happy and doesn't let memory loss dictate how she lives her life. Mary is very compassionate and helpful to her neighbors. She would help you with anything you ask of her and also jumps in to help when she see that help is needed. She is always encouraging our other memory care tenants to 'come on out, we are going to do something fun.' Encouraging is her middle name. She is always trying to fix things or help you figure something out. Dancing up a storm, exercising and walking for miles are her strong points. Boating, fishing, or anything with the outdoors makes her really happy. She brings so many positive experiences to our memory care community. Mary is one of those genuine people who will melt your heart and leave a lasting impact on you."