Technology Transports Grandmother To Her Grandson's Wrestling Tournament
Technology allows a grandmother at Ecumen Detroit Lakes to watch her grandson's wrestling matches.
By Brenda Labine, Life Enrichment Specialist, Ecumen Detroit Lakes
When Dawn Britsch's grandson, Austin, qualified for the state wrestling tournament for a second year in a row, she and a dozen other residents were able to cheer on the Lakers from the comfort of their Ecumen Detroit Lakes home. The residents were able to watch Austin and five other Laker wrestlers compete in the semi-finals and finals on a 70-inch computer screen designed specifically to make technology inviting and user friendly.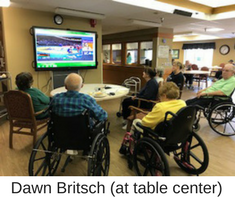 The system, developed by Colorado-based iN2L (It's Never Too Late), engages seniors with content that is important to them in an easy-to-use touchscreen format.
After a 9-4 overtime loss in his opening match, Austin won three consecutive matches to be able to wrestle in the third place match the next afternoon. From the lounge area residents and staff were able to cheer not only for Austin, but the other Lakers as well. As time between Laker matches allowed, the residents also watched area wrestlers from Perham, Frazee, Lake Park, Thief River Falls and Park Rapids.
No one was prouder than Dawn, who was sitting front and center when her grandson finished in fourth place, losing his last match in a 6-2 decision. She got a little tearful and thanked Ecumen Detroit Lakes staff for making watching her grandson possible.
Dawn also was able to attend most of Austin's matches during the regular season. The iN2L technology allowed her to not miss any of the state action for the second year in a row.
iN2L has a variety of content specifically designed to engage seniors. The push of a touchscreen button can launch hundreds of applications that offer options such as sensory stimulation, reminiscence, brain fitness, physical fitness, music and conversations with family and friends – or a grandson's wrestling match.