Teamwork and Training Save the Life of an Ecumen Bethany Community Employee
When Lynn Malvin's heart stopped, her coworkers at Ecumen Bethany Community saved her life with a well-trained quick response.
Lynn Malvin knew she worked with a great team at Ecumen Bethany Community in Alexandria. She found out how truly great they are the day they saved her life.
It was a Friday afternoon in July. Lynn, a Dietary Supervisor, was near the end of her work day, finishing up a busy week. She gave some last-minute instructions to the staff, turned to leave, and collapsed.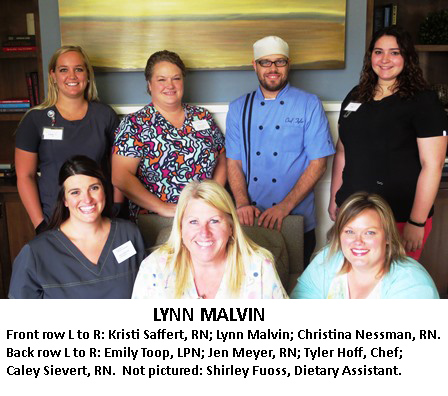 Her heart had stopped.
"I got really dizzy and just went down," Lynn recalls.
The dietary staff called the nursing staff, and a half dozen nurses from around the building rushed to help.
Nurses Emily Toop, LPN, and Caley Sievert, RN, a brand new employee, were first on the scene and started CPR immediately. The crash cart with a defibrillator — a lifesaver in Lynn's case — was there in minutes.
One of the responders was Tina Nessman, RN, the Staff Development Manager. "I remember waking up," Lynn recalls. "I heard Tina whispering in my ear: Stay with us, Lynn. Please stay with us!"
By then four paramedics, two police officers and an ambulance had arrived. Lynn was taken to the emergency room in Alexandria, then airlifted to the hospital in St. Cloud.
A couple of days later, the paramedics made a point of coming back to let the Bethany team know how impressed they were with the teamwork and quick response. When a heart stops, every second matters.
"The response was amazing," Tina says. "People just instantly dropped what they were doing and went to help. It was like clockwork. Everybody just knew exactly what to do. It was fabulous."
This was an especially proud moment for Tina, since one of her jobs is to teach CPR to the staff. "I always wonder if my training sinks in," she said. "It was phenomenal to see Bethany teamwork in action."
The response team is now affectionately known as "Lynn's Angels." Lynn is now back at work and feeling good after a three-month recovery.
"Everything is back to normal," Lynn says. "I'm very thankful that we have such a great nursing staff here — because without them I would not be here. But I told them that I'm not going to be their CPR dummy again."