The Strangest Bedfellows — By Ecumen Blogger Jim Klobuchar
Bleats of nostalgia broke out with the approaching shutdown of the almost legendary Nye's Polonaise bar and restaurant in Minneapolis. They have not subsided since the most recent owner delivered the bad news.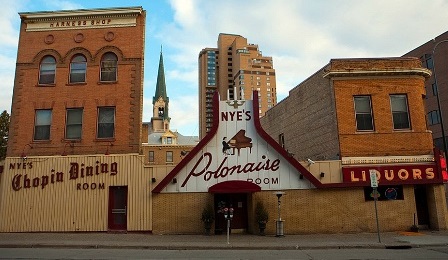 Loyalists remember Al Nye, the proud and hulking owner who popularized it. They remember sing-along sessions around the piano that turned amateur songsters from nearby factories into waiting-to-be-discovered successors to Placido Domingo and Renee Fleming. They remember the cuisine intended to replicate the best of Eastern Europe but was more like the aromas of home kitchens of Northeast Minneapolis, more familiar to the sons and daughters of the immigrant years.
My own regrets have nothing to do with the ambiance of Nye's Polonaise as much as the inventiveness of its founder, Al Nye, in salvaging a dozen big pay days from the most implausible source, a football clinic that I taught in the early years of the Vikings arrival in Minnesota.
The classes were held every other week. The sponsor was the Minneapolis Star Tribune, for which I covered pro football in the Vikings' early years. The cost was a few dollars a session. We rotated the classroom site every few years but usually wound up close to the football-loving precincts of Northeast Minneapolis. We didn't get into the more arcane parts of pro football strategy but, after two weeks or so, it was clear to me that my students could tell the difference between a Red Dog and a Hot Dog.
We usually chose a venue that served lunches and snacks and offered a temperate selection of drinks, so that none of the 150 or so students who attend each session would feel deprived. In other words, it was a payday for the owner.
Nye's Polonaise was familiar to me by then, partly because it stood virtually next door to the much revered Our Lady of Lourdes Catholic Church, said to be the oldest in the city. The problem with conducting the clinic in Nye's was the absence of anything close to an auditorium where we could comfortably conduct our course of higher learning.
"You need chairs — more than a hundred," I told Al. "You need a place to put the scholars."
"I've got a place in the basement," he said. "It's clean, comfy and adequate, and will seat them all."
"What about chairs?
Al Nye considered this newest crisis calmly.
"We're neighbors," he said of Our Lady of Lourdes, "historic church, wonderful church."
"And…" I said, suddenly worried about a clash of cultures.
"They have chairs," he said, "Hundreds of chairs. Nye's Polonaise has a basement room. Clean, comfortable and user friendly. I'll talk to the Fathers. I'm sure we can work out an arrangement. We have an excellent relationship. We'll send platoons over to pick up the chairs and bring them back."
Do you have any serious doubt about Al Nye being able to work out an arrangement? All I can tell you is that 150 chairs were there in Al Nye's basement every Tuesday night. I'm equally sure that they were back in the church the next day.
So I had to call this jerry-built classroom — beneath the sing-alongs at the piano and an occasional broken beer bottle overhead — a rousing success. I even announced Al as our visiting celebrity for one of the evenings.
When he left, I asked my class their impressions.
"Okay," one of my scholars said. "Al was very good but Bud Grant might have been better."
I said it was hard to picture Bud Grant diagraming a five man blitz in the middle of a polka party.