Achieving workplace excellence is hard under the best of circumstances. When Ecumen Detroit Lakes employees went on stage in Saint Paul this week to accept LeadingAge Minnesota's prestigious "Excellence in the Workplace" award, their accomplishment was that they had done it under the worst of circumstances.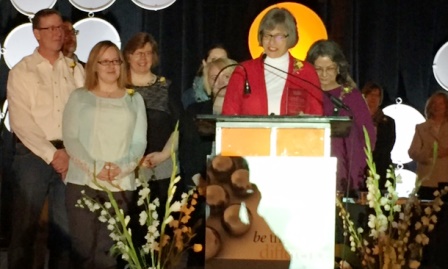 For almost two years, starting in the fall of 2013 and ending in the spring of 2015, Ecumen Detroit Lakes was under major construction that caused significant disruptions to almost every normal day-to-day process. But employees faced the adversity with determination, and quality of care, customer satisfaction and employee satisfaction all stayed at the highest levels.
Ecumen Detroit Lakes maintained its CMS 5-Star quality rating. Fully 100% of residents/families rated the nursing home a 4 or 5 on a 5-point scale, and 90% of short-stay residents gave a 4 or 5 rating. Plus out of all of Ecumen's skilled nursing facilities, Ecumen Detroit Lakes scored the highest on employee satisfaction based on Pinnacle surveys and won Ecumen's Employee Satisfaction Award last year.
"I am so proud of the employees at Ecumen Detroit Lakes for their display of unwavering patience, persistence and commitment and so proud of the site leaders for their ability to sustain Ecumen Detroit Lakes as a great workplace despite almost two years of construction upheaval," said Ecumen Regional Director Carol Kvidt.
At the February 10, 2016 awards ceremony, LeadingAge Minnesota showed the above video produced to highlight the award.
RELATED STORY: Ecumen-DL Earns Statewide Excellence in the Workplace Award