On Nov. 5, 1975, Randi Handegaard took her first job at Sunnyside Care Center in Lake Park, Minn., as a newly minted occupational therapy assistant. She blinked, and now it's 40 years later. She's still at Sunnyside as the Activity Director — still loving her job every day.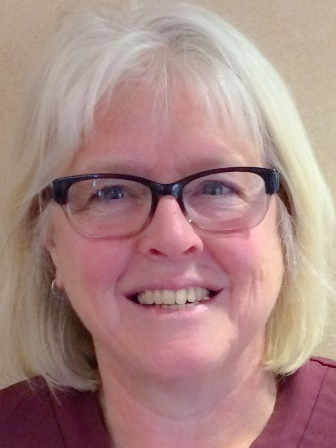 Today Randi celebrates her 40th anniversary. "It feels like yesterday," she says. "I loved it the minute I got here. It's a wonderful job and a wonderful place. It's been a good 40 years."
It's also been a family affair. "My kids grew up volunteering here, from babies on up, and now my grandkids are volunteering," Randi says. "The kids love it, and the residents love it. Sunnyside has a good family feeling. I feel lucky."
Danielle Olson, the Executive Director at Sunnyside, says Randi walks in every day with a smile on her face and an enthusiasm for learning and doing new things.
"She always has tons and tons of ideas of how we can do things better," Danielle says. "And she's witty, funny, loyal and humble."
Because Randi is such a well-respected member of the community, she has a special rapport with residents and their families that brings a sense of comfort, Danielle says. "She is so helpful to families. If she doesn't know the answer to a question, she always knows someone who does."
Over 40 years, things have changed quite a bit, Randi says, mostly for the better. The care center is much more homey, and the residents more active and engaged. "Now we have lots of people with computers and cell phones," she says.
When she first started, crafting was the main activity. Now she's focusing much more on mental and physical stimulation and educational activities. "I've come to notice how competitive people are, no matter what their age," she says, citing her enthusiastic bowling team determined to win a trophy. In scheduling activities, she concentrates on what the residents want to do from day to day — from making soup to playing trivia games to exercising. "After 40 years, I have a lot of ideas under my cap," Randi says.
Several years ago, Ecumen introduced a Lean program to improve processes and eliminate waste. Randi is the program's champion at Sunnyside. Basically, she says, Lean is all about "fixing the things that bug you and doing things better." Danielle says this comes naturally to Randi.
What does Randi like most about her job?
"There always something different to do," she says. "There's something every day that's rewarding. We get to smile together and laugh together. It's just those little things that make every day worthwhile. I've met so many grandma and grandpa friends over the years. The hardest part of the job is losing them."
Back in 1975, Randi says she never expected to be at Sunnyside this long, but has no regrets. "As long as I am able, I'd like to continue."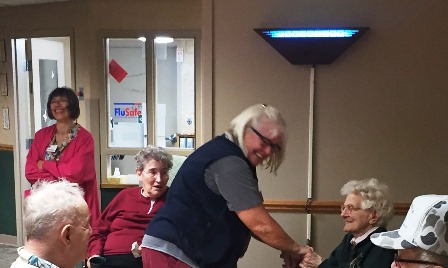 Randi accepts congratuations from residents.